Today's Oracle takes us to the Taurus monthly for April 18, 2005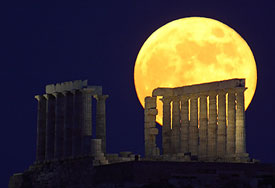 If you're walking in the dark it's with every kind of radar night vision psychic power and an excellent guide dog. But since this is an inner condition I suggest you come to terms with how little you can hide from yourself. Others seem destined to offer their support for your highest visions or goals and once you are fully honest with yourself about what they are you'll be able to take in all the blessings that surround you.
This is an ancient horoscope and by some miracle it is still relevant today. Experience the astrology as it happens, written by me weekly and twice monthly, plus your Moonshine horoscope by Len Wallick. Here is how to sign up — and what you get.