Today's Oracle takes us to the Libra monthly for May 31, 2013.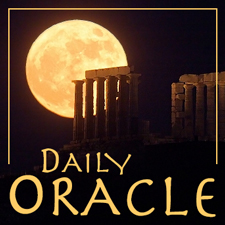 Events that develop this month will be enough to focus your priorities on what you know matters — what you've said so many times is your top priority. You may start to feel like you have some catching up to do, yet I would caution against acting like you have to make up for lost time. Rather, work with the idea that what you're doing and the choices you're making now are right on time. Take the steps you need to prepare for the steps you're about to take. Perhaps the most important thing to remember is how much you've learned the past year. Make sure that you consider what some call 'both' sides of every issue and what I would say amounts to taking a circumspect, open-minded approach, never being too invested in your own opinions.
---
The Saturn-Pluto conjunction is separating, but still strongly influencing our experience. While this event will happen two or three times in the lives of most people, this particular instance is a moment of convergence and reckoning for the world and for us as individuals.
Eric has completed recording RESPECT, the 2020-2021 Planet Waves annual readings, to cover the momentous astrology of the coming year-plus. You can read more about the project, and order the readings for instant access, here.