Today's Oracle takes us to the Libra monthly for January 28, 2011.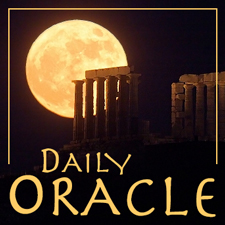 There's really only one way to process this much energy, and that is rock and roll. Define this concept as you will: art, music, social activism, passionate sex — anything expressive. That is the opposite of depressive. This is the kind of energy you want to let flow, but there's so much of the stuff that it's calling for guidance in truly constructive, creative directions. I only say this because there are other possibilities for how it might manifest, particularly if you're feeling overwhelmed. And the way to avoid that is to have something better, which is the movement of vital force. This is an excellent time to figure out that you have two basic positions — flow and blockage. It's the time to figure out from experience, not merely from theory, that energy is energy, and that it is we who turn it dark or light. It happens that, at the moment, plenty depends on your ability to make this recognition real — in that you could easily be overwhelmed by the intensity of the flow; and that you could find yourself with some of the most magnificent creative opportunities on your hands. With this power surge, flowing through the sign Aquarius, you may be inclined to take risks you would not ordinarily take; if you make sure those risks are in a spirit of love and conscious experimentation, you will be safe. Saturn is in your sign, suggesting that you can apply the concept of boundaries in a useful and workable way.
---
The Saturn-Pluto conjunction is separating, but still strongly influencing our experience. While this event will happen two or three times in the lives of most people, this particular instance is a moment of convergence and reckoning for the world and for us as individuals.
Eric has completed recording RESPECT, the 2020-2021 Planet Waves annual readings, to cover the momentous astrology of the coming year-plus. You can read more about the project, and order the readings for instant access, here.