Today's Oracle takes us to the Pisces weekly for February 18, 2018.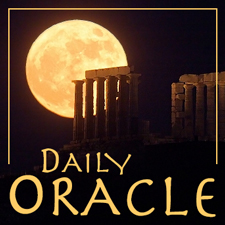 In astrology, the 12th house is the one that is usually said to correspond with yours, the 12th sign. This is the most mysterious house, which is about all things invisible, and not available to the normal senses. How have your dreams been? Have you noticed that you're doing some kind of deep working out? Have you noticed that the air feels a little cleaner, like in the morning after it's rained all night? Last week's eclipse took place in your 12th house, which was like a psychic purge. Periodically, this house needs the pressure equalized with the rest of your life, your mind and your chart, and that's what happens when there's an eclipse in this area of your chart. Notice your new clarity, feel it, and pay attention to what you notice. Make sure you do that Pisces thing and keep your point of view moving rather than fixed. One benefit to this event was that it's helping set you free from thought-forms that had grown too rigid. Look at everything and everyone, including yourself, from as many angles as you can.
---
New in the Special Readings Series
Magnum Opus on Eclipses, Now Through Late 2020
Eric's new 90-minute discussion of all things related to eclipses, in any sign — with a focus on Cancer and Capricorn eclipses, from the current pair through 2020 — is available now for instant access. Part audio reading, part astrology class, it offers you a lot of help processing the solar eclipse on July 2 and the lunar eclipse on July 16, and features original music. Hear it as part of the 2019-2020 Astrology Studio for Cancer, or purchase the Eclipses Reading separately for only $33.