Today's Oracle takes us to the Sagittarius weekly for December 14, 2012.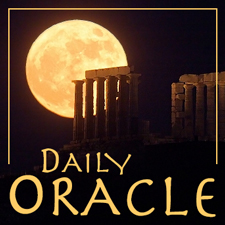 An extraordinary New Moon in your birth sign on Dec. 13 is pushing you to express yourself, your whole self and nothing but yourself. This is often a risky venture on our planet, where we like to think that most of the people who tell the truth end up martyrs. I am not merely suggesting you tell the truth or lead the people or lay out a philosophy that could benefit many, based on the challenges you have faced so bravely. I am suggesting that you live your truth without compromise. Now, doing that also means living the truth of the aspects of yourself that you may not like, or that compromise your peace of mind. It includes being real about the history that led you to where you are today. Being real, however, does not mean acting out. It more suggests acting on — which can include opening yourself up to the healing and contact that you need. Sometimes it's the darkness in us that can lead to a sense of isolation; and fact one of your life now is that no longer needs to be true. And if it ever did, it no longer matters today.
---
The Saturn-Pluto conjunction is upon us, just weeks away. While this event will happen two or three times in the lives of most people, this particular event is a moment of convergence and reckoning for the world and for us as individuals.
I'm underway recording RESPECT, the 2020-2021 Planet Waves annual readings, to cover the momentous astrology of the coming year-plus. You can read more about the project, and pre-order the readings, here.