Today's Oracle takes us to the Scorpio weekly for May 18, 2007.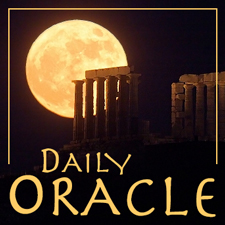 A partner, close friend or loved one holds the key to an issue with which you've been struggling. For them, it's easy; for you, it's a challenge, but what you're here to learn is how to accept the factor of ease and flow. This is about the movement of ideas, and that requires fluidity rather than fixity; it calls for asserting yourself rather than being passive. Given all you've been through the past few weeks, you may be feeling a little cautious about pushing too hard — and I don't propose you do so. Rather, what you're about to learn is the correct proportion of push energy, flow energy and receive energy is involved in a highly productive creative situation. You are a student right now, and you're learning through direct experience.
---
My readings offer a place of refuge, an opportunity to suspend self-judgment, and my careful reading of the charts. I offer you reasons to be motivated, and strategies for handling the strange complexity of society at this time. To this work, I bring all of what I have learned as a journalist, editor, astrologer, spiritual student and man of the world; and I offer it to you for an affordable price. Read more here.
Now available for instant access!