Today's Oracle takes us to the Gemini weekly for March 25, 2011.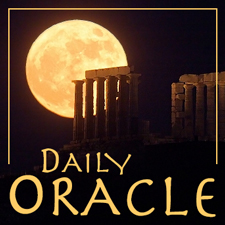 You may seem to be moving against the current of so much that's happening around you, but you can trust that this is your role in the great journey of life. I suggest you not worry if you're being contrary, or if you think people perceive you as being so. Part of what you must do is lay an energetic foundation for your own individual will, and for your perception of the world, regardless of what others think. This is not done merely by making up your mind about it; there is an experience factor that's necessary. And there is a confidence factor. They are all related. As you go through this journey you may encounter pockets of self-doubt, despite your considerable knowledge and awareness. One not-so-small issue is that we are rarely taught how to actually handle peer pressure, a force that is responsible for all kinds of sorrow. We see examples of this all over the place, from the most trivial issues to some of the most important global issues to who refuses to get in a car with a drunk driver because of what others might think. Therefore if you find yourself learning how to be autonomous of mind, if you find yourself engaged in a struggle to honor your own ideas, you can trust that this is one of the most significant growth experiences that we can have on Earth. Whether you turn out to be right or wrong, you will get the same benefits.
---
My autumn readings, called In These Times, offer a place of refuge, an opportunity to suspend self-judgment, and my careful reading of the charts. I offer you reasons to be motivated, and strategies for handling the strange complexity of society at this time. To this work, I bring all of what I have learned as a journalist, editor, astrologer, spiritual student and man of the world; and I offer it to you for an affordable price. Read more here.