Today's Oracle takes us to the Capricorn weekly for April 25, 2003.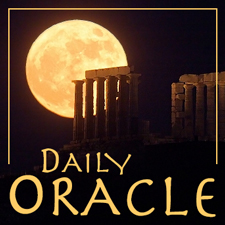 The "take a risk — no don't dare" contradiction is in full blossom right now. This seems to involve an idea, and it's funny how threatening ideas can be. You would do well to consider, though, just what they threaten. Without giving away the answer, I can tell you that ideas threaten other ideas, since we can reach those moments where two possibilities you want to be true cannot be true at the same time. Eventually one of two things happens. The discomfort becomes so great you just finally concede one point or the other; or the pressure builds to the point of an explosion, a kind of psychic orgasm that leaves you floating in the best of all worlds. Anyway, ideas can't hurt you.
---
The Saturn-Pluto conjunction is separating, but still strongly influencing our experience. While this event will happen two or three times in the lives of most people, this particular instance is a moment of convergence and reckoning for the world and for us as individuals.
Eric has completed recording RESPECT, the 2020-2021 Planet Waves annual readings, to cover the momentous astrology of the coming year-plus. You can read more about the project, and order the readings for instant access, here.