Today's Oracle takes us to the Libra weekly for February 5, 2010.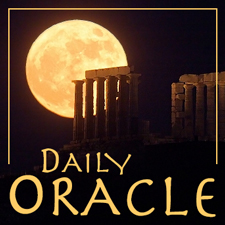 One of the great obvious mysteries is what sexual experience has to do with creative experience. The simple way to explain it is they wake one another up. Sex creates more than babies; it creates awareness. Art creates consciousness, not just works on paper. What they both have in common is that they require a willingness not only to have life be 'nice' but to delve into a world of light and dark, fear and passion. Both sex and art involve transmuting taboo emotions into something that is creative or pleasurable. If that is the working concept, then you can regard all feelings as healthy, normal or acceptable. Most pain comes from judging feelings; it's one thing to feel shame and it's another to say it's bad. Or pleasure; or love; or the craving for emotional freedom that would open the way to any or all of them.
---
The Saturn-Pluto conjunction is separating, but still strongly influencing our experience. While this event will happen two or three times in the lives of most people, this particular instance is a moment of convergence and reckoning for the world and for us as individuals.
Eric has completed recording RESPECT, the 2020-2021 Planet Waves annual readings, to cover the momentous astrology of the coming year-plus. You can read more about the project, and order the readings for instant access, here.