Today's Oracle takes us to the Taurus monthly for August 25, 2011.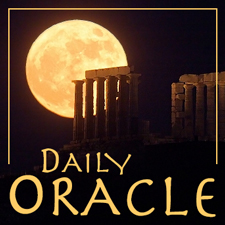 There comes that point when the mental realm breaks through into the physical, as desire, decision or action — and you are at this point. The inner realm of ideas can be a lot of fun, considering what is possible and making plans for the future. It's true that there are many possibilities, and you have many ways to express yourself. But thinking about things only goes so far. Suddenly experience becomes the journey, because it must. In my lexicon, experience means a direct experiment. Experiments start with a plan, but the whole point is that you don't know the outcome. It's easy to control one's mind; it's more challenging to guide it to be free. In an odd way, this takes discipline, which means focusing your desire to make an inquiry that is liberated from rules about the outcome. That's when the experiment can really begin — and in a sense, it already has. You've been passing through a series of gateways, or more like choke points, and as you emerge through each of them you're born into a slightly new awareness — each one closer to your body than your mind. These passages have served to wake you up to what is possible. When it comes to the actual, conscious experiment, you get to let go again, on a deeper level, sometimes involving another person — and sometimes for only a brief experience that teaches you a lot. Be sensitive to what each particular experience calls for.
---
New in the Special Readings Series
Magnum Opus on Eclipses, Now Through Late 2020
Eric's new 90-minute discussion of all things related to eclipses, in any sign — with a focus on Cancer and Capricorn eclipses, from the current pair through 2020 — is available now for instant access. Part audio reading, part astrology class, it offers you a lot of help processing the solar eclipse on July 2 and the lunar eclipse on July 16, and features original music. Hear it as part of the 2019-2020 Astrology Studio for Cancer, or purchase the Eclipses Reading separately for only $33.