Today's Oracle takes us to the Scorpio weekly for February 7, 2003.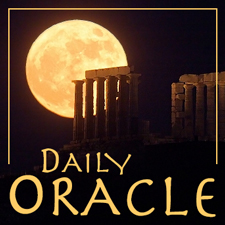 You are facing an odd opportunity to work with both your highly individualistic drive to do everything your way for yourself, and a distant, perhaps potent calling to serve the needs of certain people in the world, whether it's good for them (or you) or not. I suggest you stick to your own agenda. It's entirely more honest and is the actual source of benefit for the world around you. You will get a lot more done, and you obviously have a lot, in fact, to get done. That so much in your life feels poised for sudden rearrangement need not slow you down or deter your course of action. What counts the most always changes in form and sometimes in content, and the only way to know how you really feel about what you want is to make it real and test out that reality. It is fair enough to say that what is most important to you has the greatest chance of happening. Remember that in your moments of doubt.
---
The Saturn-Pluto conjunction is separating, but still strongly influencing our experience. While this event will happen two or three times in the lives of most people, this particular instance is a moment of convergence and reckoning for the world and for us as individuals.
Eric has completed recording RESPECT, the 2020-2021 Planet Waves annual readings, to cover the momentous astrology of the coming year-plus. You can read more about the project, and order the readings for instant access, here.