Today's Oracle takes us to the Gemini weekly for August 11, 2016.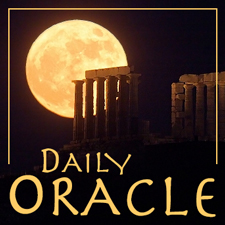 On more than one occasion Eric has said, "space is intelligence." If you have an idea on the brew, it's possible that the first step to drawing it forth is to make sure your space is ready. Tidy up any clutter that's preventing you from breathing freely. You may be surprised by how much clearer your head feels afterwards, and by the potentially multiplying effect on your creative skills. Then you can get on with the business of making a more vibrant and wonderful world. — by Amy Elliott.
---
New in the Special Readings Series
Magnum Opus on Eclipses, Now Through Late 2020
Eric's new 90-minute discussion of all things related to eclipses, in any sign — with a focus on Cancer and Capricorn eclipses, from the current pair through 2020 — is available now for instant access. Part audio reading, part astrology class, it offers you a lot of help processing the solar eclipse on July 2 and the lunar eclipse on July 16, and features original music. Hear it as part of the 2019-2020 Astrology Studio for Cancer, or purchase the Eclipses Reading separately for only $33.