Today's Oracle takes us to the Leo monthly for February 1, 2004.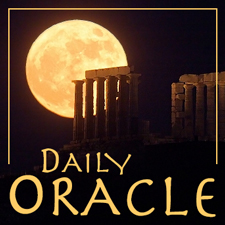 If we don't believe in solutions and search for solutions, we don't usually find them. In actal fact, life is not the same everywhere, things do change, and what was impossible yesterday can suddenly be eminently possible today. More often than not, these kinds of developments occur within relationships; very little in this world happens outside of relationships. So pay particular attention there, and really listen to what people say to you and want from you. More to the point, pay attention to how they perceive you. My sense is that you are looking for affirmation that you are absolutely and unquestionably valuable, and that you're unlikely to trust anyone who doesn't get this intuitively. You're on the right track. In the immortal words of the Rocky Horror Picture Show, 'Don't dream it, be it'.
---
The Saturn-Pluto conjunction is separating, but still strongly influencing our experience. While this event will happen two or three times in the lives of most people, this particular instance is a moment of convergence and reckoning for the world and for us as individuals.
Eric has completed recording RESPECT, the 2020-2021 Planet Waves annual readings, to cover the momentous astrology of the coming year-plus. You can read more about the project, and order the readings for instant access, here.