Today's Oracle takes us to the Libra weekly for December 14, 2012.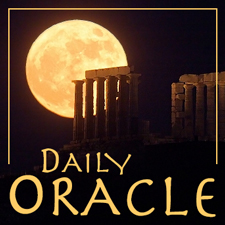 I suggest you take every opportunity to get out of your head. You are immersed in a world of ideas; some are friendly, some are creative, and some represent the darker shades of existence. 'In your head' means thinking and thinking with no sense of resolution. 'Out of your head' can mean a few things — one is out into the world, the 3D world of experience. It can also mean into some form of expression, which would be both exciting and therapeutic, and lead to other adventures. There is a lot to be said for the imagination. Arm-chair travel is a real thing. But to have some fine, exotic experiences, you actually don't need to go far. In fact, some of what you want is coming in your direction even as you are heading toward it. There is a meeting place, and it's not necessarily that far from where you're sitting right now. Meanwhile, to the extent that you are using your mind, do so in a creative way. Use pictures. Use words. Use sound. Your mind contains the deep pool known as your imagination — a truly beautiful thing.
---
The Saturn-Pluto conjunction is separating, but still strongly influencing our experience. While this event will happen two or three times in the lives of most people, this particular instance is a moment of convergence and reckoning for the world and for us as individuals.
Eric has completed recording RESPECT, the 2020-2021 Planet Waves annual readings, to cover the momentous astrology of the coming year-plus. You can read more about the project, and order the readings for instant access, here.