Today's Oracle takes us to the Aquarius monthly for May 5, 2016.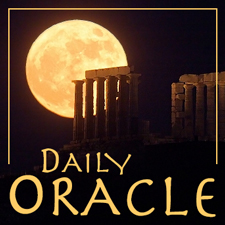 It is true that people do not live by bread alone. In some way, no matter how well you have overcome any instability or dearth of years past, there may be some needs of yours that have long been unmet. Examine your life for frustrated or neglected desires, especially those that have been relegated to the realm of luxury because of your need to focus on necessity. Perhaps you could now consider exchanging one form of affordable luxury for an upgrade that will provide a form of nourishment you have long done without. You know yourself well enough to understand you will not be excessive or irresponsible if you allow yourself to live with — rather than without — what amounts to more sustenance for your soul. — by Len Wallick.
---
My autumn readings, called In These Times, offer a place of refuge, an opportunity to suspend self-judgment, and my careful reading of the charts. I offer you reasons to be motivated, and strategies for handling the strange complexity of society at this time. To this work, I bring all of what I have learned as a journalist, editor, astrologer, spiritual student and man of the world; and I offer it to you for an affordable price. Read more here.