Today's Oracle takes us to the Libra monthly for April 26, 2013.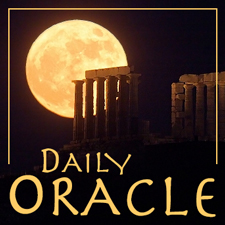 You've likely been through an unsettling or perhaps tumultuous month or two. Events have challenged you to be flexible, tolerant and to make some peace with the fact that many people are different from you. This also means that you are different from they are. However you look at it, you're in a position where you have to find common ground with others. You cannot set the agenda exclusively, and obviously you cannot have others set the agenda for you. Without some form of negotiating your way into territory you can share with others, you'll find yourself at an impasse. This happens when people have intractable values. I suggest you look at your values and decide which are flexible and which you cannot compromise on. Then see if you can encourage partners to do the same thing. You are in a situation where something has to give, and where your flexibility will be called on as a bottom line. That's why I suggest you decide what you're willing to give, though while you're at it, you may want to assess your concepts of 'mutual', 'reciprocity', 'exchange' and 'understanding.' In the end you will need to reach a consensus. And any honest consensus always starts on the level of values, which are the fundamental elements of who a person really is. So, said another way, this is about you revealing who you truly are — which implies admitting to yourself who you truly are. And yes, that might be a little intimidating.
---
The Saturn-Pluto conjunction is separating, but still strongly influencing our experience. While this event will happen two or three times in the lives of most people, this particular instance is a moment of convergence and reckoning for the world and for us as individuals.
Eric has completed recording RESPECT, the 2020-2021 Planet Waves annual readings, to cover the momentous astrology of the coming year-plus. You can read more about the project, and order the readings for instant access, here.