Today's Oracle takes us to the Pisces monthly for April 3, 2006.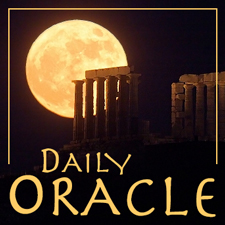 I've seen few times in the past decade of tracking astrological history when the theme of personal recreation was more meaningful for Pisces; indeed; I cannot think of one. It's as though the large pieces are finally aligning with the small ones; the finer points of life with the greater ones; the decorating details with the architectural structure. From this point onward, take it slow and steady. You have been through enormous personal renovation work. You have reached places you did not know existed. Relax for a moment and take it all in.
---
New in the Special Readings Series
Magnum Opus on Eclipses, Now Through Late 2020
Eric's new 90-minute discussion of all things related to eclipses, in any sign — with a focus on Cancer and Capricorn eclipses, from the current pair through 2020 — is available now for instant access. Part audio reading, part astrology class, it offers you a lot of help processing the solar eclipse on July 2 and the lunar eclipse on July 16, and features original music. Hear it as part of the 2019-2020 Astrology Studio for Cancer, or purchase the Eclipses Reading separately for only $33.