Today's Oracle takes us to the Virgo weekly for May 2, 2016.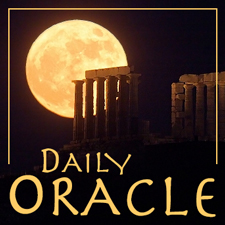 Who do you see yourself becoming? One effect of contemporary life is the seeming disappearance of both the past and the future. In some odd Buddhist style, we appear to live perpetually in the moment. Yet what's really going on in 'the moment'? Are you trying to stay the same, or are you embracing the truth that everything forever changes? Think of your life as a process of 'becoming' rather than 'being'. Right now becoming has two elements: unraveling something that seems stuck (likely to be the residue of the forgotten past) and seeing the potential of what might be (having a vision for your life, and stretching into it every day). You have material you need to resolve, and you will feel better for even making the most basic effort. And you have a life that you want to live. But to even consider that possibility you must open up an idea of the future — and face it with an open heart.
---
The Saturn-Pluto conjunction is separating, but still strongly influencing our experience. While this event will happen two or three times in the lives of most people, this particular instance is a moment of convergence and reckoning for the world and for us as individuals.
Eric has completed recording RESPECT, the 2020-2021 Planet Waves annual readings, to cover the momentous astrology of the coming year-plus. You can read more about the project, and order the readings for instant access, here.