Today's Oracle takes us to the Aquarius monthly for September 9, 2008.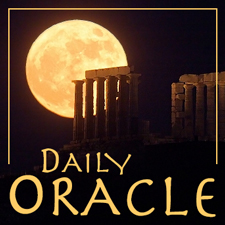 You may think you use up all your good luck staying out of serious trouble. It's true, you allocate some of it to that worthy purpose; the world is full of little and large traps that eat time, money and gumption. At the moment, you're in a rather special bubble of time wherein you make all your own luck. You do this, mainly, by having faith in something larger than the day-to-day wheeling and dealing of the world. While this perspective usually is right on the top tray of your paintbox, at the moment it's right in your hand all the time. Belief sets the limits on what you can do and how far you can go with it. You can afford to be generous with yourself.
---
New in the Special Readings Series
Magnum Opus on Eclipses, Now Through Late 2020
Eric's new 90-minute discussion of all things related to eclipses, in any sign — with a focus on Cancer and Capricorn eclipses, from the current pair through 2020 — is available now for instant access. Part audio reading, part astrology class, it offers you a lot of help processing the solar eclipse on July 2 and the lunar eclipse on July 16, and features original music. Hear it as part of the 2019-2020 Astrology Studio for Cancer, or purchase the Eclipses Reading separately for only $33.