Today's Oracle takes us to the Pisces weekly for July 16, 1999.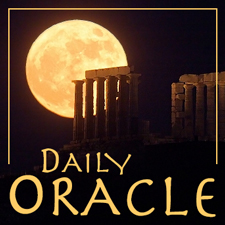 You may feel under intense pressure to make a decision, or to unify a division you feel within yourself. But you are, in reality, under no such pressure. No split within you really exists. It is all a matter of perspective. So I suggest you examine your life from as many perspectives as possible in these weeks. Imagine how the diversity of people around you perceive you, or better still, ask. Then try things like climbing a ladder and looking down at your room. Rearrange all the mirrors in your living space. Peek in the windows of your house from the outside. Notice what you feel and what you see. Make the obvious connections.
---
New in the Special Readings Series
Magnum Opus on Eclipses, Now Through Late 2020
Eric's new 90-minute discussion of all things related to eclipses, in any sign — with a focus on Cancer and Capricorn eclipses, from the current pair through 2020 — is available now for instant access. Part audio reading, part astrology class, it offers you a lot of help processing the solar eclipse on July 2 and the lunar eclipse on July 16, and features original music. Hear it as part of the 2019-2020 Astrology Studio for Cancer, or purchase the Eclipses Reading separately for only $33.