Today's Oracle takes us to the Libra weekly for April 2, 2015.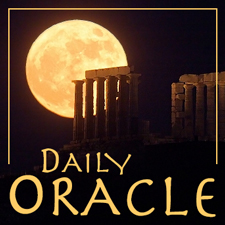 A total eclipse of the Moon in your birth sign is taking you below the surface ideas you have about yourself. The thing is, you may have already thought you were aware of what was going on down there, and I don't doubt you've made some helpful observations about yourself. Yet there is always deeper you can go, and you may surprise yourself as you make contact with what I can only describe as your real agenda. One thing that's clear is that your attachment to the past is starting to fall away like so many autumn leaves, and something new is sprouting like so many springtime buds. You have also placed a high value on independence in your relationships. You've been willing to confront the factor of instability that's often necessary on the way to making some space for yourself, though the real message of this weekend's eclipse is that you are the most stable and dependable presence in your own life. Therefore, count on yourself.
---
It is difficult to feel good these days; it's challenging to focus on your growth and self-care, or even to relax. We are pulled out of ourselves constantly, and often distracted from our core purposes. IN THESE TIMES, the Planet Waves autumn reading, will help.
CURRENTLY AVAILABLE FOR PRE-ORDER