Today's Oracle takes us to the Aries monthly for May 25, 2010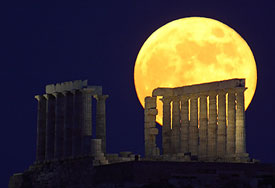 Do we ever really reinvent ourselves? Sometimes we do. Often we do not. As much as we strive to turn over new leaves, write new chapters, get a spiritual makeover, make a new effort at self-improvement, change our image, color our hair, strike off in a new direction, stop letting the family define our reality, we do very nearly everything in our power to resist real change. We have many tools for this, and most of them are relationships. Then one day it happens. Despite everything, we suddenly find ourselves rapidly becoming someone else, doing something different, living another life. It may be wildly different than anything we thought possible, or thought of at all. These are the changes that emerge from the inside and then somehow take us to other places on the planet, or make us thirst for new knowledge, or crave freedom from everything we knew in the past. And that is the moment you are in. You've had plenty of time to consider your potential, and by now you know what you want: to be at peace, all you need to do is admit your truth to yourself, and then let go into the flow. There will be time later to reflect on what you've done, to revise your ideas and to try a new approach: but this first go is the most meaningful one. It's the moment when you say yes to yourself: a moment of faith and adventure.
This is an ancient horoscope and by some miracle it is still relevant today. Experience the astrology as it happens, written by me weekly and twice monthly, plus your Moonshine horoscope by Len Wallick. Here is how to sign up — and what you get.