Today's Oracle takes us to the Cancer weekly for November 19, 2010.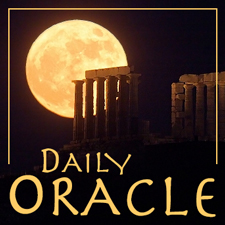 This matter you're considering that is on the verge of public and private, is something you seem to want known, and you'll feel better when it's no longer private. You will reveal things to yourself by exposing them to others; the feedback from the outer world is an essential mirror of understanding that will propel you deeper into yourself. And deeper is the way you want to go: every factor involving your relationships or intimate contacts is pulling you in that direction like a colossal magnet. Whether these are seemingly work-related contacts or seemingly personal ones, always remember that you exist in the human dimension, and that its protocols are inherently hormonal. If you're concerned about breaking rules, keep your sense of humor. If you're concerned about being too obvious, wear red, and a hat with peacock feathers.
---
My autumn readings, called In These Times, offer a place of refuge, an opportunity to suspend self-judgment, and my careful reading of the charts. I offer you reasons to be motivated, and strategies for handling the strange complexity of society at this time. To this work, I bring all of what I have learned as a journalist, editor, astrologer, spiritual student and man of the world; and I offer it to you for an affordable price. Read more here.