Today's Oracle takes us to the Libra monthly for May 1, 2000.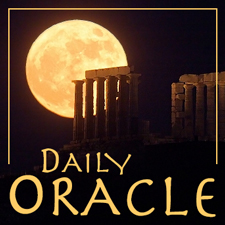 You are now the bridge: between Heaven and Earth, between people, and between all aspects of reality that seem different, but are really one. How we go from one reality to another, from "separation" to "unity," from "negative" to "positive," is largely a trick of perception. We must learn to see again, which often involves unlearning all the wrong information and reality-formulas we were forced to believe. I have lost a long argument with reality, and concede the point that how we see the world, it is — and more important, how we see the world, it becomes. Your role is to vision yourself and each of the the people who inhabits the empire of your senses into transformation, to see the connections, and to gently lead people across the bridge to reality. Remember that your the transformative power of your eyes and ears will work whether it's negative or positive; so choose all that is about love, creation, wisdom, beauty and prosperity, and you can't go wrong.
---
New in the Special Readings Series
Magnum Opus on Eclipses, Now Through Late 2020
Eric's new 90-minute discussion of all things related to eclipses, in any sign — with a focus on Cancer and Capricorn eclipses, from the current pair through 2020 — is available now for instant access. Part audio reading, part astrology class, it offers you a lot of help processing the solar eclipse on July 2 and the lunar eclipse on July 16, and features original music. Hear it as part of the 2019-2020 Astrology Studio for Cancer, or purchase the Eclipses Reading separately for only $33.