Today's Oracle takes us to the Capricorn weekly for July 11, 2008.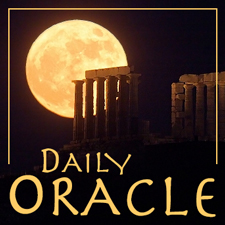 Pay attention to what information comes your way this week. It may be in the form of words spoken, an email addressed to you or something you see flipping through the channels at 2 a.m. One sentence could hold the key to a problem or situation you've grappled with for the past couple of months, and the effects could be far-reaching, extending significantly beyond your personal sphere of influence. If a person — probably a coworker or employee — offers you the idea, I suggest you take the time to investigate how they came to make that observation or reach that conclusion, and learn something about both your thought process and their own. Ask yourself how you missed something so obvious — and pay attention to what else you may be missing.
---
The Saturn-Pluto conjunction is separating, but still strongly influencing our experience. While this event will happen two or three times in the lives of most people, this particular instance is a moment of convergence and reckoning for the world and for us as individuals.
Eric has completed recording RESPECT, the 2020-2021 Planet Waves annual readings, to cover the momentous astrology of the coming year-plus. You can read more about the project, and order the readings for instant access, here.