Today's Oracle takes us to the Aquarius weekly for July 25, 2016.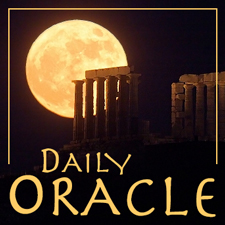 This year has come with a training program in leadership for you. It's arrived in various ways, though the most prominent has been self-leadership. You may not think of it that way: you might be remembering various shades of conflict and a few long stretches of utterly exhausting challenges. You've made changes you didn't really want to make but knew were the right thing to do; so you did them, and ended up in a better space and time. The way you've done that, and continue to do that, is by feeling solid in who you are, and bold about your mission. You cannot fake this, and what you've been experiencing is precisely that process of engaging your reality. That can involve confrontations; you might have to nudge some people aside to get something even pretty simple done; you might annoy some people. All of these sources of friction serve to make you stronger in who you are. Take a step back and feel your strength.
---
The Saturn-Pluto conjunction is upon us, just weeks away. While this event will happen two or three times in the lives of most people, this particular event is a moment of convergence and reckoning for the world and for us as individuals.
I'm underway recording RESPECT, the 2020-2021 Planet Waves annual readings, to cover the momentous astrology of the coming year-plus. You can read more about the project, and pre-order the readings, here.