Today's Oracle takes us to the Leo weekly for July 11, 2008.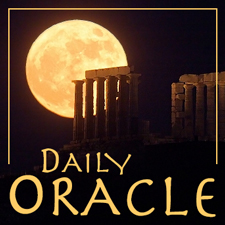 You may feel some old stories percolating to the surface — material dating back to around 1999. Even if not, I propose it's time for the nine-year eclipse cycle reality check. August 1999 was meaningful because that's when solar eclipses returned to your sign for the first time in 18 years. By an oddity in the Saros cycle (which tracks the pattern of eclipses), there were "missing Leo eclipses" in the early 1990s, and by late in the decade (when they returned) you were catapulted forward in ways that were unexpected, potentially unpleasant, but ultimately necessary. Now the cosmos is warming up for a new set of eclipses across Leo/Aquarius, which will move stuck energy for you, your partners, and for all the fixed signs. I suggest you set your own agenda for this event, rather than allowing your circumstances to set it for you. (Timeframe: less than three weeks.)
---
It is difficult to feel good these days; it's challenging to focus on your growth and self-care, or even to relax. We are pulled out of ourselves constantly, and often distracted from our core purposes. IN THESE TIMES, the Planet Waves autumn reading, will help.
CURRENTLY AVAILABLE FOR PRE-ORDER