Its been a difficult few weeks in America since the Paris attacks of mid-November. With the responsibility for the attacks claimed by ISIS, all the usual suspects latent in America's post-911 xenophobic subconscious have emerged like ugly flowers.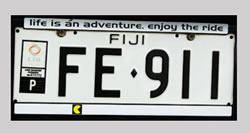 Now, given the sunlight of the San Bernardino shooting — where a young couple purportedly claimed their support for the ISIS cause (though ISIS claims no responsibility) and killed 14 people in a public services office — these flowers are in full bloom.
Of course the nightly news isn't helping. Once again, we revisit late 2001, reborn in Donald Trump's and Ted Cruz's demagoguery. And their supporters love it. No need for facts right now. Just plain, raw emotion, suspicion, xenophobia and a desire for vengeance. All the national uncertainty surrounding why this young immigrant couple with a six-month old baby took to opening fire on civilians in a government building is essentially a powder keg — one we're sitting on squarely.
Because of that public uncertainty, the once-diminishing Trump campaign gained new life in the wake of the attacks in Paris and San Bernardino. Once again grabbing hold of the national id, Mr. Trump's declarations of going after not only terrorists but their families on national news has helped him regain further traction, building into a sizable lead over his fellow challengers for the nomination.
I don't even recall George W. Bush being so blatantly anti-immigrant in the aftermath of 9-11. Yet, with Trump's entire party in fear of a Black president, and never one to let a moment for opportunism slip, Donald — the alpha demagogue, Mr. Branding himself — dove to even lower lows. He was followed by Ted Cruz, the beta demagogue, who gave his anti-Muslim xenophobia its own flair. Not surprisingly, recent polls among Republican voters place Trump and Cruz as first and second, respectively, and Ben Carson's once appallingly pleasing campaign has faded.
It is under these circumstances that President Obama spoke to the nation in an unusual Sunday evening address, asking for calm, attempting to reassure a highly wary and trigger-happy America that the government plans to get to the bottom of the San Bernardino attacks, and asking us to remember what we are as a nation. Even though all the right words seem to have been written and said, the general atmosphere on both sides of the political sphere is division and mistrust. Will he or won't he pull the trigger and send boots on the ground in Syria? Will he go to war to keep us safe?
It is here where, among other words spoken by the President, I ask today for calm as he did. Yet I want to take that one step further and ask not for calm as in complacency, but for the reasoned calm of one insistent on investigating who did what to whom and why in San Bernardino. Getting to the bottom of it. All of it. I mean, not doing this lead to the Iraq Invasion in 2003 which started all of this in the first place.
Here is where we find that gap in the memory tape, our convenient amnesia that eclipses what should be the lessons of history whenever we're frightened and insecure. We're scared for the continuance of our privileged way of life, our dominance, and our sense of superiority and exceptionalism in the world. That is a lot of baggage to unload.
But, this is unfinished business looking us in the face, and we're grasping for answers that we already know exist but are afraid to admit. This is where our failure to remember always gets us in trouble.
Fifteen years after 9-11, if we haven't been paying attention, is plenty of time for cells and insurgencies to be reborn, die off, reconstitute and carry on. We've known that. That is why we've had the acronym GWOT (Global War on Terror) tattooed on our psyches. The issues created by a country we destroyed, namely Iraq, remain — from Al-Qaida to the Islamic State and whoever comes next.
Because we are in a race for a White House that climate change deniers and neocons are spending billions to claim (and who stand to gain from the chaos of war in the Middle East), the general atmosphere in the country is volatile. And the current political dialogue is a lit match. Are we forgetting that, with all the scapegoating and demonization of immigrants from wars we caused, we are still sitting in that room loaded full with powder kegs and playing with fire?
With this in mind, I'm posting this reminder from On The Media.org for our readers, which I found through Daily Kos over a week ago:
BREAKING NEWS CONSUMER'S HANDBOOK — Terrorism Edition
1. Remember, in the immediate aftermath almost everyone will get it wrong.
2. As always, local, non-anonymous, and verified sources offer better info.
3. Amid all the contradictory statements,focus on consistent reports.
4. The more emotional the commentary, the less reliable the information.
5. Really don't pay attention to politicians.
6. In fact, examine the credentials of all putative "experts."
7. Pay attention to the language the media uses:
–"Mastermind" — endows terrorists with more power than they have
–"Sophisticated" — overestimates crudely planned mayhem.
–"Unprecedented" — there is little "new" in terrorist methods.
8. Inevitably, whole populations and religions are scapegoated. Ignore this.
9. Resist reflexive retweeting. Number of shares belies accuracy.
10. Be patient.
This list is relevant today and will be in the tomorrows to come. Please cut it out and paste it by your keyboard, television or on your refrigerator for reference. Just in case we forget.