Later today (or early tomorrow, depending on where you reside), the Moon moves on to Leo for the weekend. Then, on Monday, Luna leaves Leo for Virgo where it will meet up with the Sun for a New Moon, either Tuesday night or Wednesday morning (once again, depending on your time zone).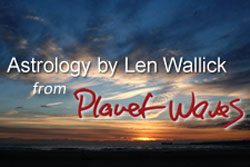 With the Virgo New Moon next week, a new lunar cycle will begin. Astrological events leading into and following the next lunation appear to be promising. Yet (as always) astrology is not destiny.
You are not a puppet in the cosmos. You are a participant. The greatest influences on you rarely (if ever) emanate from above. Rather, it is your choices that most often determine your fate.
Even so, what goes on in the sky (and on the zodiac) does provide guidelines for you to take into account. It all begins with awareness.
We are now in the final days of a lunar cycle that started with an exceptional New Moon which was also a total solar eclipse, on Aug 21. Depending on your personal astrology, it may seem like a long time ago — or only yesterday. Regardless, at this point it would probably be a good idea to practice long-term awareness on a daily basis.
Looking back to the solar eclipse, and ahead into next week, the holistic picture portrayed by astrology represents much that is supportive of your efforts. By the same token, some circumspection (even caution) would seem to be in order.
Mercury's conjunction with Mars tomorrow will rapidly fade into the past, provided you can refrain from being reckless (or ruthless) this weekend. Then, come Tuesday, Mercury will leave behind the portion of the zodiac it has retraced three times — going into, during, and after its most recent retrograde.
Less than ten hours after Mercury moves past the 12th degree of Virgo, Venus (still rising brilliantly before the Sun) will emblematically follow suit by departing Leo to join the Sun, Moon, Mercury and Mars in Virgo.
Less than five hours after Venus makes its ingress, the Sun and Moon will conjoin in Virgo's 28th degree. Finally, a week from today, the Sun will move on to Libra to precipitate an equinox and initiate a new season. That's a lot of implicit momentum over the course of one week.
It is almost as if both a proverbial tide and metaphorical wind will be with you, and in support of any enterprise you have in mind. To cite just one example, the coming days would be an excellent time to publish a book or premiere a stage production.
The outcome of the coming week's astrology, however, is not predetermined. A lot depends on one of the most powerful forces in the universe: your intent. Another big factor is your priorities. If, for instance, you were to run roughshod over the lives of others in pursuit of your ambitions, the result could easily be a success that is ultimately diminished by its cost.
To make the most of what remains of our current lunation and season, therefore, go boldly but with due diligence into this next week. Do not allow yourself to be mastered by either fear or ambition.
Be the master of yourself. Endeavor to feel the ground under your feet with each step. Make each stitch with equal care. Be willing to adapt just as much as you are determined to overcome. If the skies are any indication, it's even now every bit as possible to bring as it is to be brought a renewed balance and equity to your life.
Offered In Service
---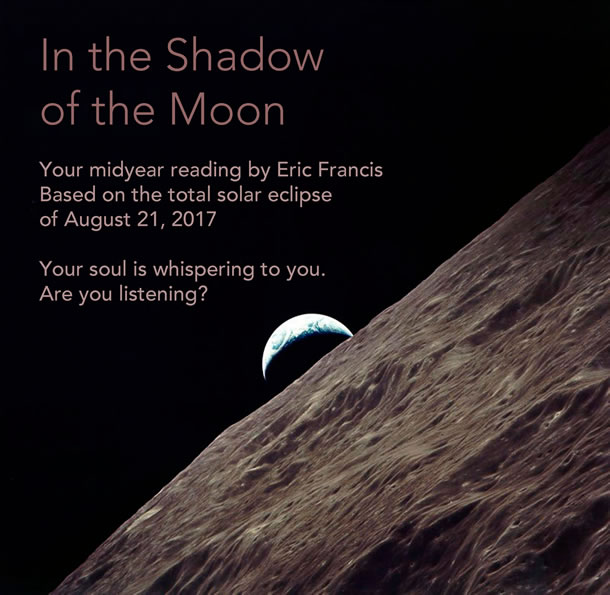 In the Shadow of the Moon, the exciting 2017 Midyear Reading by Eric Francis, is now published. Although the video readings for all 12 signs use the Great American Eclipse of Aug. 21 as a starting point,
Eric develops the themes through some of the most important astrological events you'll encounter in the remainder of 2017 and beyond
.
We'll be increasing the price again very soon, so don't hesitate to order your copy here. You can also now choose your individual signs here.