To some extent, we have all seen (or should have seen) the present day coming. Those of us who are older are (or should be) seeing it come around. It is not a question of whether some rather substantial changes are going to happen. It is a matter of how. If the current astrology is any indication, you matter.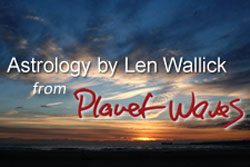 This week, the so-called "personal planets" (which usually can be said to include the Sun, Moon, Mercury, Venus and Mars) are playing a substantial role in the astrology. Even so, that role is in a longer-term context.
That context is being provided by the interpersonal planets (Saturn and Jupiter), along with the planets that correlate more closely to the history of established cultures and nations (including, but not limited to, Uranus, Neptune and Pluto).
As if to initiate the "personal" side of things for this coming week, Mercury will leave Virgo behind to join the Sun in Libra shortly after 8:42 pm EDT tonight (which translates to seconds after 00:42 UTC tomorrow morning).
In the meantime, the Sun and Moon are gradually moving farther apart even as Venus and Mars are moving closer together. On Thursday, the combined motions of all the personal planets will reach an implicit climax.
Venus and Mars come together in the same degree of the same sign — for what both astrologers and astronomers call a conjunction — roughly every other year. The last time was 2015. The next time will be on Thursday, in Virgo.
About two hours after the Venus-Mars conjunction, the Libra Sun and Aries Moon will reach their monthly opposition (or, as it is usually called: a Full Moon). That's a lot of astrological activity in one day, but it's not about one day.
It took nearly two years for Venus and Mars to get to where they are now. Likewise, it's been about a year since Mercury toured Libra, and nearly a month since the last Full Moon. Very much like the prospect of substantial change, the astrological events having to do with personal planets next week have all been coming for a while.
With those events will implicitly come personal choices. In general, there will be no clearly "right" or "wrong" electives. In most cases there be three ways you can go, and the consequences of each way.
First, you can act to favor going back to the way things were before now. Or, you will be able to endeavor to keep things the way they are now. The upside to either path will be the lure of familiar outcomes.
Both scenarios, however, will almost certainly require you to put more energy into the effort than you will get out of it. That's because you will be resisting change during a time when there is no longer any excuse for not seeing it coming.
The third path is not passively letting change happen to you, either. Rather, it is being receptive (Venus, or the Moon if you will) to something different from before. It is also being both thoughtful (Mercury) and active (Mars) in determining what that difference is. Of course, this approach will have its challenges.
It is not easy to break personal habits and patterns, even if you are dissatisfied with them. In addition, uncertainty comes with the territory of moving forward.
All that being said, there is one clear reward of electing neither to go back nor to stay in the same place. It is the satisfaction of knowing that you are now participating in what will one day be seen as what was coming, even if all you reshape is your own life.
Offered In Service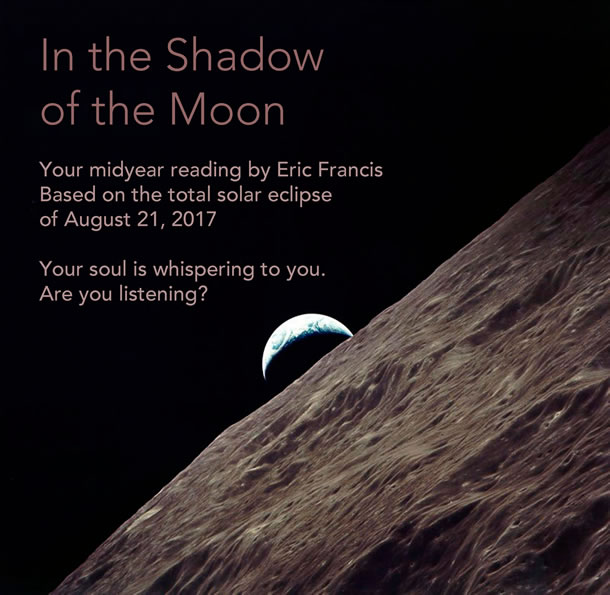 In the Shadow of the Moon, the exciting 2017 Midyear Reading by Eric Francis, is now published. Although the video readings for all 12 signs use the Great American Eclipse of Aug. 21 as a starting point,
Eric develops the themes through some of the most important astrological events you'll encounter in the remainder of 2017 and beyond
.
We'll be increasing the price again very soon, so don't hesitate to order your copy here. You can also now choose your individual signs here.