To hear some tell it, the Virgo Full Moon on Thursday at 1:05 pm PST (18:05 UTC) heralds dire events to come before our current season ends. That's almost certainly not true. What's far more probable is that we will all be more than just a little tired of at least one thing (probably more) by the time the Moon swings around to mid-Virgo in opposition to the Pisces Sun.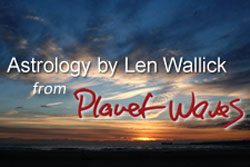 After all, who on the East Coast and Midwestern portions of the U.S. has not grown just a bit tired of the freezing, icy, snowy weather? Maybe a few ski resort owners, or kids excused from school, but likely few others.
Then there's politics. Who is not tired of elected representatives who claim to do their job by suspending government functions and holding you hostage? Perhaps those whose true agenda is no government at all?
Then there is war — only those who profit from it have not been fatigued to numbness by perpetual armed conflict. Thugs (in suits or ski masks), bullies (with or without badges), institutionalized oppression, corporate hegemony, and inhumanity to human beings as standard operating procedure are just among the many things that suck vitality out of modern living.
And you know what happens when you get tired. You might get cranky. Probably you make mistakes. You may possibly even self-medicate to excess (or get behind a steering wheel after even moderate medication) and make it all worse for yourself and others.
How about making things better? What an idea. You could start by not entertaining tired old astrological predictions of gloom-and-doom based on doctrines that assume we are helpless puppets of the heavens. You can claim your birthright of power to participate actively as fully-fledged members of the solar system.
One way to actively participate in astrology is a simple two-step process: observe and correlate. It is recommended that you compile more than three observations before attempting correlation. That takes some patience and some effort. Fortunately, the Virgo Full Moon coming up represents nearly the end of a very interesting and long pattern which is now ripe for your observation and correlation.
It goes like this: Thursday's Full Moon will be the seventh in a row (since the Pisces Full Moon of Sept. 8, 2014) to take place in the middle of its sign. That's right, Full Moons in Pisces, Aries, Taurus, Gemini, Cancer, Leo and now Virgo, all at either 14, 15 or 16 degrees and the pocket change of an arc minute (one sixtieth of one degree) or an arc second (one sixtieth of an arc minute) here and there.
The trend will not end until after the Libra Full Moon next month. It is an unusual streak, and it has meaning because mid-points have substantial meaning for astrologers, and for you.
Ever hear of Halloween, Groundhog Day or May Day? Those are the husks of ancient astrological holidays observing the midpoints between seasons. The very fact that some remnant of what the ancients called cross-quarter days still remains active in common consciousness testifies to the power of mid-points in your life.
Beyond the traditional cross-quarters, the Full Moon (and opposing Sun, please remember) at the midpoint of any sign places both Sun and Moon in the middle of a square aspect between the cusp of signs that share the same quality (cardinal, fixed or mutable).
The cusps of signs that share the same quality are always 90 degrees apart. A separation of 90 degrees on the zodiac and/or in the sky defines a square. Squares represent tension, usually internal in origin but often ascribed in error to external causes. Anything in the middle of a square is thus symbolically in the middle of astrology's prime emblem of anxiety.
Thursday's Full Moon, for example, will find the Pisces Sun halfway between the cusp of fixed Aquarius and fixed Taurus. The Virgo Moon in turn, will be at full phase just as it is precisely (to the degree) between the cusp of fixed Leo and fixed Scorpio.
When you are in the middle of something you are often so involved so as not to be fully aware. It happens to all of us. When the Sun and Moon are in the middle of a square for seven Full Moons in a row, the implication is that your entire psyche is rather deeply involved with some prolonged tension, and probably not aware to what extent.
No wonder it seems like there is so much for you to be sick and tired of no matter where you go. Because no matter where you go, there you (and your long-sustained internal tension) unavoidably are.
But now you are aware. Now that you have received what seems to be the pertinent observation, and now that you have been given a plausible correlation, you have something to work with. Not the weather, not the politicians, not thugs, not bullies, not even the masters of war and industry. Thankfully, what you have to work with is the one thing in the Universe you can change — yourself.
And, mercifully, you have a timeframe. After next month, the Full Moons will move off sign-center and imply different correlations, new challenges and different rewards.
In the meantime, get to work on yourself. Try having a nap instead of a drink. Instead of ascribing what you are sick and tired of, describe it. Observe what others are doing with their tension. Get them to to describe what theirs is. Encourage them to own it. Support them. Find something in common rather than seeking conflict. Find reason to bond.
That's your Full Moon in Virgo. Not an end. Not at all. Rather a real and meaningful beginning, if you will but make it. What say ye?
Offered In Service
Len is available for astrology readings. You can contact him at lenwallick [at] gmail [dot] com.