Venus will conjoin Mars in the second degree of Aries at 12:13 am EST (05:13 UTC) Sunday. It will be the first of three times Venus and Mars will briefly share the same degree of the same sign this year. For two reasons, one general and one specific, the first Venus-Mars conjunction of 2015 will implicitly be better suited for taking note than for drawing conclusions.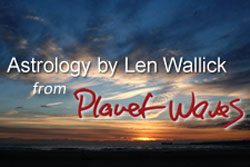 The general reason for noting rather than inferring over the weekend has to do with how Venus and Mars move in relation to each other from our perspective here on Earth. The specific reason to observe now and judge later corresponds with what the Sun and Neptune will be doing in relation to all three of the Venus-Mars mergers this year.
From our perspective here on Earth, it's difficult to accurately generalize about the motions of Venus and Mars relative to each other. The difficulty has to do with the calendar most of us use.
Our 12-month civil calendar is based on the apparent motion of the Sun. Of course, it's really Earth that orbits the Sun once a year. For all practical purposes, however, perception is reality. That's how it usually makes more sense both to keep track of time and to do astrology based on how things look from where you actually are.
Problem is, the apparent motions of Venus and Mars relative to each other do not make sense if the civil calendar is the framework for your perceptions. For example, you might say that Venus and Mars conjoin once every two years or so, and accurately capture their pattern since 2011. But such a convenient generalization breaks down periodically. This year is just such an occasion.
Implicitly then, you should eschew convenient conclusions when Venus and Mars conjoin this weekend. Instead, make note of what transpires and how you feel about it.
Moving further into 2015, endeavor to preserve your notations from this weekend. Save your notes to see how things look from where you actually are when Venus and Mars conjoin again, smack in the middle of Leo during the last day of August (or on Sept. 1, depending on your time zone).
That way, by the time Venus and Mars reach their third merger of the year at 24+ Virgo (late on Nov. 2 in the U.S.), you will have a customized framework of their correlations with your life. As result, you should finally be able to connect some meaningful dots based on your own experience. Doing so should give you a firmer grasp on your own reality as 2015 draws to a close.
As it turns out, there yet is another reason to first note, then corroborate your perceptions as Venus and Mars conjoin. It is a reason specific to this year. For every time Venus and Mars conjoin this year, the Sun and Neptune will be in meaningful aspect to each other.
The Sun represents (among other things) conscious awareness. In other words, being wide awake, engaged, fully present and accountable. Neptune, on the other hand, often corresponds with alternative states of consciousness. That's how the Sun and Neptune often constitute a tricky mix that bears watching more than showing.
So happens, the Sun (in Pisces since yesterday) will be closing in on a conjunction of its own — with Neptune — when Venus and Mars hook up this weekend. For that reason alone you might want to do as you will, but without the proverbial beer goggles, so as to more astutely note your circumstances going into next week.
By the same token, you may want to anticipate that the Sun will oppose Neptune rather precisely when Venus and Mars perfect their second conjunction of 2015. Finally, you can reasonably plan on having a clearer head for this year's third coalescence of Venus and Mars by simply knowing that the Sun by that time will have safely separated from the entanglements of a trine with Neptune.
So there you have it. From astrology's perspective, this weekend should be well worth noting. That's probably very good, or at least very interesting news. On the whole, however, you may want to subject your notes to tests of time and subsequent correlation before drawing conclusions about (or acting on) what you perceive as reality.
Offered In Service
Len is available for astrology readings. You can contact him at lenwallick [at] gmail [dot] com.