When tributaries come together to make a greater river, it's a wondrous thing. It's also a phenomenon too easy to take for granted because it is so effortless and natural. With notable exception for the Sun and Moon acting as a counterpoint of sorts, there's a lot of confluence going on in the sky now.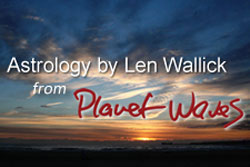 Confluence in astrology is when planets come together in the sky and on the zodiac to occupy the same degree of the same sign. Astrologers call that a 'conjunction' — one of many geometric relationships between celestial objects collectively called 'aspects'.
First and foremost among all the things conjunctions represent for astrologers is a new cycle. As is the case with other aspects where retrogrades are not involved, the prototypical conjunction by which all other such mergers are interpreted takes place between the Sun and Moon — astrology's two 'luminaries'. It is called a New Moon.
On the day of a New Moon, you can't see the Moon from our perspective on Earth because it is moving through the daytime sky with the Sun. On the days that follow a New Moon, we see Luna reappear, its illumination gradually growing as it separates from the Sun. At maximum separation (about two weeks after a New Moon) we see the Sun and Moon on opposite sides of the sky and zodiac. That's a Full Moon, astrology's template for the aspect known as an opposition.
This weekend there will be a Full Moon in Aries. Weather permitting, it will be a beautiful sight. Regardless of where you are, this particular Aries Full Moon also promises to be a momentous occasion correlating with events significant enough to be in the foreground of your consciousness.
In the background, however, a whole heaping handful of astrologically significant objects are in the process of moving (or 'applying', as astrologers put it) towards their respective conjunctions. As Eric and Amanda have previously noted here on Planet Waves, one of those conjunctions (between Uranus and Eris) will share the same degree of Aries with this weekend's Full Moon.
In the meantime, Mars is applying to conjoin with Capricorn in Pluto this coming Wednesday. Mercury, for its part, is currently chasing down the Sun in Libra for a conjunction that will take place on Oct. 27 after both have moved on to Scorpio.
Finally, this coming Tuesday, Venus will move on from Scorpio to Sagittarius. There it will conjoin with Saturn on Oct. 29 (or Oct. 30, depending on where you live), coinciding with the next New Moon.
What should you make of all these applying conjunctions currently being outshone by an impending (and implicitly momentous) Full Moon? Appropriately, there is a confluence of answers to that question. First off, as big a deal as the Aries Full Moon (and corresponding events) look to be, no single astrological aspect is the be-all, end-all. The Sun, Moon and planets keep moving after even the biggest moments. Just as the world does. Just as you endeavor to do.
More to the point, astrology is both cyclical and holistic. There is no linear movement in the sky. Everything goes around to come around, just as life does. What's more, at any given time there are a lot of cycles going on, each in a different phase of completion. It's important to see all of those cycles as a whole, one aspect leading to the next, all coming together effortlessly like tributaries making rivers that return to the sea to begin again.
If you are fortunate enough to view the Full Moon this weekend, remember that it's just a moment. As with every precious moment in your life, it should not be taken for granted. Neither, however, should you take it for more than it is. Seek to flow with the corresponding events in your own way, and find your own place (whether foreground or background) within them. Then, as with all other things in the solar system of which you are a part, move on.
Offered In Service