From one day to the next, you move on. You move on to take care of your needs, follow up on your plans, keep your schedule and to deal with what life brings you. You might say the same for the Sun, Moon and planets. Perhaps most of all the celestial objects, the Sun moves with you, marking the passage of time.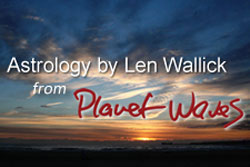 That's because the Sun brings day and light with its presence in the sky. Also, calendars and clocks are synchronized with the Sun because of how the Sun's height in the sky corresponds to the seasons.
The Sun is additionally a primary point of reference for navigational purposes. Especially on the ocean, where no landmarks are to be found, sailors have long looked to the Sun first to figure out where on Earth they are.
The Sun's role in astrology is similar to its practical role in your life. For astrologers, the Sun is astrology's central organizing principle. It is true that the Moon is an indispensable complement to the Sun. So it is that the Sun and Moon are in an astrological class of their own: luminaries. It's also true that the planets combine with the luminaries to delineate specifics and expand perspective so as to make astrology capable of correlating with life's complexities.
Nonetheless, it is important to constantly refer back to the Sun and include it so astrology can keep up with life. Now (as we enter Labor Day weekend in the U.S.), is an especially good time to orient yourself astrologically by using the Sun.
You might first use the Sun as both a marker of time and an orienting reference to consider where you are as regards to the eclipses we are in the midst of. Specifically, instead of taking the word of somebody else, you can now evaluate for yourself whether the Sun in opposition to the Aquarius Full Moon back on Aug. 18 constituted a lunar eclipse for you.
Because the Full Moon of Aug. 18 spent less than half an hour just barely inside Earth's shadow, the darkening of the Moon was not readily perceptible. For that reason (and in spite of the fact that the eclipse was assigned a number by astronomers) some say it did not happen. Now that you have the perspective of having been through yesterday's Virgo conjunction of the Sun and New Moon for a solar eclipse, you can use the guidelines Eric published on Aug. 18 to decide on your own authority whether your life entered the 'zone' between eclipses back then or only yesterday.
Based on his erudition and experience as an astrologer, Eric noted four 'properties' that your life tends to take on between eclipses. First, there is what he described as a "concentration of experience." In other words, more events packed into the same amount of time — in this case, the two-week period between a Full and New Moon (or vice-versa).
Next, those concentrated events also seem to be karmic or even predestined in some way. Third, there is a perception of discontinuity that goes with being in the eclipse zone, in that endings and beginnings are more prevalent than usual. Finally, it is more likely that the discontinuity will correspond with your facing critical transitions and decisions to a greater than normal extent.
Hopefully, you will have some discretionary time available to you over the next several days. If that is the case for you, consider the benefit of taking some of that time to, in essence, be your own astrologer. After all, it is not all that often the Sun affords such a clearly distinguished opportunity.
If you see fit to take advantage of such a rare opportunity, simply take some time away from your weekend activities to reflect on your life since Aug. 18. Did the properties of being in an eclipse zone start showing up in your life last month, or only since yesterday?
This is not a meaningless exercise. Neither is it a test. Think of it as a chance to validate and affirm your role as an active participant in the system we have named after the Sun — the solar system. Believe your perceptions, and locate yourself accordingly.
Once you have a fix on your location in relation to the Sun and Moon in eclipse, you will have taken a great step — a step up. You will have, in essence, left the ground where your life was marked by days, nights and seasons. You will have elevated your life to include the sky. That is no small thing.
In addition, you will have attained a perspective you can build on. Next week the Sun moves on to locate you in relation to a distant but demonstrably significant object that has a lot in common with the controversial Full Moon of Aug. 18 . That object would be Pluto. Even as you move on yourself, it might be to your advantage to stay tuned.
Offered in Service