Early yesterday we had a Full Moon in Taurus, opposing the Scorpio Sun. Sometime later yesterday, or very early this morning (depending on your time zone) the Moon moved on to Gemini where it will spend about two days. There is no one interpretation for a Gemini Moon, but there is a generality that often applies.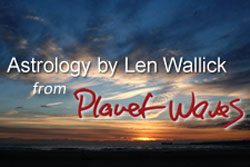 According to the late, great astrologer Rachelle ("Rockie") Gardiner, when the Moon is in Gemini it's generally an appropriate time to "talk about it." Gardiner's interpretation makes sense when you consider the nature of both the Moon and Gemini.
For astrologers, the Moon is a rich and complex subject. Even so, it would be generally correct to say that the Moon has to do with subjective (rather than objective) matters. That would include your emotions, how you are feeling and unconscious forms of awareness.
Gemini is a mutable air sign ruled by Mercury, and identified by a binary motif — sometimes twins, other times a glyph that looks like the Roman numeral two. For astrologers the quality of mutability is amenable to change. Air, for its part, is generally considered by astrologers to be an abstract medium. Finally, while Mercury is every bit as rich and complex as the Moon, you would not be far off to generalize it as having to do with manifestations of mind.
Hence, having the Moon in Gemini is a good time to "air things out" by abstracting what's subjective into words. Ideally, the communication in question would be a genuine conversation rather than a one-sided vent. It would also help if everybody involved is able to keep everything in context and be willing to change their mind.
Part of the lunar context now is that the Sun (which generally corresponds to conscious awareness) initiated its last seven days in Scorpio at about the same time the Moon entered Gemini. For those who keep track of the Sun's annual circuit of the zodiac, the final days in any given sign often have a certain intensity.
The specific nature of that intensity also depends on a larger context of which you are a part. For some, it's an invigorating period, for others it's a time of fatigue. That's something to remember as you (hopefully) participate in airing things out today and tomorrow.
Finally, it would be a good idea to take into account what Mercury is doing, since the Moon is now under its influence in Gemini. Mercury has been moving through Sagittarius since Saturday, and will not complete its tenure there until next month. Additionally, in a complex and rich contextual scenario involving a handful of corresponding aspects, Mercury is and will be reiterating the waning Gemini Moon's message through the entire week.
So that's your picture. It's not a simple image, but there is a relatively straightforward way to understand your place in the astrological order. In general, your experiences this week will reliably be about outer manifestations of what's going on inside. Remember that one thing, and you have all you need to understand and be understood.
Offered In Service