Prick up your ears. Listen to the world as well as your own heart. Feel the wind in addition to your own intuitions. Look up and out as well as within. You are approaching a time to gather in with all your senses. Not to judge. Judgement can wait. Not necessarily to draw conclusions either. Rather, you approach a time to listen for echoes, but not from the past.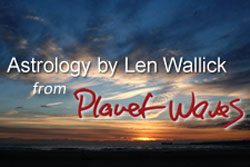 As this week draws to a close, begin to listen for echoes from the future. You have the ability to discern them. It's not absurd to do so. It just takes a bit of conscious practice.
First, it's a matter of timing – knowing the best time to listen. Astrology helps with that. Then it's a matter of knowing what not to listen to (or rather what to consciously tune out).
The best time begins nearly three weeks before every time Mercury stations retrograde. Many astrologers call it a shadow phase. Years ago, Eric proposed the more positive and empowering alternative term 'echo phase.' Either way, it is a both a period of time and a slice of the zodiac.
The first echo/shadow phase takes place when Mercury in direct motion enters the part of the zodiac where it will retrace its path in apparent reversal only weeks later. The second echo phase comes after the retrograde is over, when Mercury moves through the same area a third time. Think of a windshield wiper moving in its confined arc three times – once towards the left (direct), then towards the right (retrograde), then left again (direct again) to get the idea.
Just as the first swipe of a windshield wiper gives you some idea of what to expect from the second (and even third) swipes, Mercury's first echo phase implicitly contains information. The important thing to grasp, however, is that the information is not fully formed and organized, like data from the past. Rather it is like a scent on the breeze. Echoes from the future consist of hints which repeat and add up. Your place in the process is to actively listen for patterns, and do the adding up.
That first swipe begins less than 24 hours after Mercury enters Libra shortly after 11:44 am EDT (15:44:25 UTC) on Thursday, and will continue until Mercury retrograde commences on September 17. Now is a good time to make plans to start your active listening, because you will probably have to change your personal routine a bit in order to do so.
One of the best ways to pick up echoes from the future is to turn off the television and otherwise turn away from the pasteurized process product called news. That's because most of what is called news is anything but new.
Instead, presuming you are blessed with ambulatory ability, walk the streets in your neighborhood. As you walk, pay attention to all you meet. Listen to everybody you either meet and engage with or overhear. Listen for patterns in words, phrases, attitudes and viewpoints. Ride a bus and do the same. Or sit in a coffee shop. Or go to a park and watch people play softball, soccer, or basketball. The possibilities are nearly unlimited.
As this week draws to a close, leave the manufactured world for spaces where people gather as much as possible. Not just people either. Assuming you are patient enough to get into their groove, listen to birds singing, dogs barking, babies crying, children playing, and any form of voice that comes your way.
Additionally, watch the skies, whether cloudy or clear. Indeed, let every form of sensory input which is not processed through electronic media tell you something. Pay special attention for what you are told over and over. If you give your effort enough time for a sufficient number of times, you will catch on.
The future really does echo, especially in the weeks before a Mercury retrograde. You really can bring meaning to those echoes as well. All it takes is a bit of intent, some planning, and your ability to follow through by getting out into the other world (besides the world of electronic media) where Mercury manifests in a wholly different way.
For of all the ways Mercury manifests, the most important is how it does so through you. You have the ability to do more than just listen. Within your power is the ability to be the mythical messenger you would want others to be for you.
Yes, you can for all practical purpose deliver the sort of messages you want to hear from the world. But you must hear the world first. Now would be a good time to get started making plans for how to do that, and change your life just enough to listen for echoes from the future.
Offered In Service