The word "chaos" has a lot of baggage. That baggage has a history. That history, in turn, is probably recurring constantly, but only in an approximate way. The probable expression of recurrence as rhyme rather than exact repetition is key both to your understanding of the universe, and to your empowered participation in it.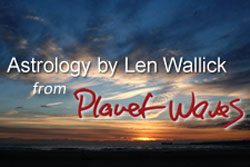 Many ancient creation myths posit chaos as the terrifying initial condition of the cosmos. Then, some divine being or other brings a nice, safe, comforting form of order — but at a cost.
The price of positing chaos as the initial state of all things is the surrender of your power. Specifically, it means giving your power away to those who claim to represent divinity and the authority to maintain order.
Observing recurrence either artistically (through astrology or music, among other modalities) or scientifically (such as through mathematics), suggests another point of view: that chaos is only a form of re-ordering. The study and practice of re-ordering, in turn, implies that the universe has a more dynamic potential than the status quo allowed for by creation myths that effectively concentrate the power of many in the hands of a delegated few.
Playing music, practicing astrology, or accounting for chaos mathematically implies that the world is in fact constantly beginning anew in some way that is also familiar. Great musicians, for example, never play the same musical phrase the same way twice. Each recurrence of the phrase then represents the initial conditions for new possibilities.
In a similar way, you are empowered to recognize how familiarity in any given moment of your life constitutes the initial conditions of what could be an entirely new and different way of living — which you can participate in creating, or not.
To do so, however, you must reclaim your power from those who represent themselves as mediating between you and creation. That is not so easy.
The established order promises safety and comfort in return for giving up your power. There is a lot of appeal in that offer if you perceive the alternative as being powerless in a terrifying world. Additionally, those in whose hands power becomes concentrated have a long history of being rather terrifying themselves in response to any challenge.
Think about how vulnerable you feel when accepting responsibility for what you are and what you do, even in small things. It's a risk. Yet, in taking that risk there is sometimes the prospect that others will see themselves in you, creating the initial conditions for community, beginning with the example you set. If there is anything to astrology, now is one of those times.
Every once in a while the conditions above indicate a familiar song recurring anew below. In the present case, that potential is for creating form anew here below. Even so, astrology cannot answer the questions that will determine what the outcome will look like. That's where you come in.
One question is whether you will give away your power and allow any re-creation to be formed by others, or whether you will participate in the forming. Another question (assuming your participation) is whether you will act to empower all others in an authentic and genuine new order, or whether you will act to empower just some others in an ostensibly new but actually repetitive recurrence of the old order and its ways.
Without getting all technical on you, the initial conditions currently implied by the astrology are not represented by just one planet. It's a bigger picture, open to interpretation. However, Saturn, the most familiar planet most often associated with form and definition, is probably the best focus at this time as regards to themes of chaos and order.
More precisely, the best focus is taking into account Saturn's recent record of about nine months oscillating back and forth in a five-degree corridor of the zodiac between Scorpio and Sagittarius. It may have seemed like a chaotic time for you, but that time is over. Saturn is now embedded in Sagittarius for the next two-plus years.
When a planet changes signs, it is essentially like an orchestra musician changing instruments. A new role in the greater whole is implied, not just for the planet, but for you. Combine that new role with aspects Saturn is now (and will soon be) receiving in Sagittarius from other planets in other signs, and some form of new arrangement would seem to be available for your part in the bigger picture.
When you consider that Saturn takes nearly 30 years to complete its orbit around the Sun (and to complete a circuit of the zodiac's 12 signs), those new arrangements could very well be historic.
That's how the interpretation being offered here is that this time in history, and your place in it, will represent a choice embedded in your every decision and action for the two-plus years Saturn will be moving in Sagittarius. The established order, so as to maintain is hegemony, has not taught you how to recognize or to make this choice. You will have to begin learning on your own, but only at first. Other individuals who are not acting to enforce the established order (in other words, most people) will teach you by how they respond to you.
As a first requirement, you will need to examine yourself. Specifically, you will want to look at any way in which you, whether consciously or unwittingly, act as an agent for the power structure. For example, think about any time you might say "shame on you" or otherwise judge others based on criteria that have been handed down to you from those in authority.
Once you consciously and intentionally free yourself from being an unpaid deputy of established hierarchy, you will finally be able to make choices that set a pattern of example — a pattern you have thought through and elected to pursue on your own.  
You will know you are facing such potentially lonely choices when you feel vulnerable. You will know you made the right choice when you risk discomfort, and in so doing receive support from other individuals (rather than from established authority) for your example. By the same token, pay attention when others on the same path of reformation as you question your choices.
Those others who are comforted by an example that harmonizes with theirs will constitute the seeds of new community, and will also be your teachers. Now would be a good time to begin recognizing who those allies might be. Doing so may not be easy, but an effort to start could result in a new and better life for more than just you, even long after your natural life has run its course.
So that's the interpretation being offered here. Where some may see chaos while Saturn moves through Sagittarius, you are being provided with an alternative: to see instead the initial conditions for a better way, and for a better you.
Offered In Service
Len is available for astrology readings. You can contact him at lenwallick [at] gmail [dot] com.