And before my life is done, got to find me a place in the Sun
— Stevie Wonder
There is an interesting pattern in the sky this week. The pattern favors finding your place in a larger scheme of things than just your personal life. It has to do with how the sign rulers have temporarily sorted themselves out. As always, the final and crucial ingredient in making this astrology work for you is your awareness, holistic perception and conscious response.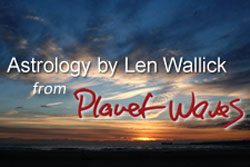 With an exception for the Moon's unique scope, sign rulers associated with your personal life (the Sun, Mercury, Venus and Mars) are clustered into a relatively narrow arc of the zodiac — all within 60 degrees of each other.
As result (and once again, with the fast-moving Moon as an occasional brief exception) the so-called "personal planets" are not perfecting any major aspects to each other in the near future.
That's because Venus is now separating from its weekend conjunction with Mars, which occured as both entered Aries. Also because the next major aspect after a conjunction is a sextile, which requires a separation of 60 degrees. That's something Venus will not quite achieve from either the Pisces Sun or Mercury (which is accelerating faster in Aquarius than Venus is in Aries) anytime soon.
Instead, the four sign-ruling planets closest to the Sun are exclusively aspecting their peers in the outer part of the solar system for the time being. Proportionally speaking, it's a big jump from the orbital period of Mars (about 2 years) to the approximately 12 years it takes for Jupiter to circle the Sun and the zodiac. The same is true for Saturn's circuit of nearly 30 years.
For that reason, Jupiter and Saturn are usually interpreted as corresponding to entire segments of your life rather than the frequently repeating life cycles that correlate to personal planets. That's how Jupiter and Saturn have come to be thought of as trans-personal planets, completing their respective orbital periods to distinguish passages associated with generations.
Beginning with Uranus (which takes approximately 84 years to move through all 12 signs), and continuing on out to include the even longer periodicity of Neptune and Pluto, the modern sign-rulers tend to mesh with historical cycles and social entities that transpire over multiple generations.
Hence, the fact that personal planets are now focusing their most meaningful angular attentions on the outer solar system has a symbolic message for you: now is a good time to place yourself in a larger, longer context.
You might say the process started yesterday with the Pisces Sun achieving a separation of 90 degrees (a square aspect) from Saturn in Sagittarius. Therefore, in order to place yourself in context with the sky, try to recall whether you experienced anything other than the usual weekly return of anxieties normally associated with Mondays.
Specifically, if you consciously encountered or contemplated any long-term milestone with a sense of trepidation in the last day or so, don't be troubled. Instead, take consolation from the fact that yesterday's inner tension is the handle by which you may open the door to this week's astrology.
The handle yesterday's discomfort provided will allow you to reach within yourself. With but a little contemplation you might attain an instinctive sense of reconciliation with your place in a larger, longer scheme now — as today's fire trine from Venus to Saturn would support your doing.
If you can but stretch to get a hold within yourself today, it will help tomorrow. For even though Mars is falling behind Venus as they both move through Aries, it is still close enough to perfect a fire trine of its own by reaching precisely 120 degrees of separation from Saturn in Sagittarius tomorrow.
Yes, trines are supposed to be easy. Without awareness, however, any aspect between Mars and Saturn might feel unduly intense. Now that you know what's coming (and assuming your experience yesterday opened a door to understanding), you can conceivably place yourself to apply any intensity as opposed to weathering it.
Plus (and this is where seeing astrology holistically comes in really handy) when the Sun's conjunction with Neptune peaks tomorrow, you will be able to take inspiration rather than being confused. It will be a matter of simply getting things in the right order. First, listen to your imagination. Then, act to build just a little reality on what you imagined. Just a little will do.
You need not build Rome this week. Instead, simply find your place in Rome (or its equivalent for you) as your first order of business. Then, do a little something to assert your place. Do a little for now. It will be enough.
Doing enough for now will establish a foundation to build on. Subsequent construction will be supported later by the waxing Moon. So too Mercury, which is on approach to expand your mind with a sextile to Uranus in Aries and an opposition to Jupiter in Leo.
But that's another story (ideally your story), to be meaningfully continued.
Offered In Service
Len is available for astrology readings. You can contact him at lenwallick [at] gmail [dot] com.