Dear Friend and Reader:
Vernal equinox arrived and the new season began yesterday on a fiery note, with the Sun joining many planets already in Aries — including Uranus. The Sun changing both signs and seasons made its annual conjunction to the Aries Point and the astrological year reset. The Sun's presence in Aries keys us into the Uranus-Pluto square, which has been developing the past couple of years and reaches its first of seven peaks on June 24. This is what I've been calling the 2012 aspect — a juncture point in the cycles of revolution that had its last big celebration in 1965-1966.
In total, the many astonishing events of this Spring are like a garden path, or rather, wild safari that leads to the first of those seven exact Uranus-Pluto squares in late June. Yet because the Sun is in Aries now, it will be passing through the square, in effect setting it off a little early: the Sun conjoins Uranus on Saturday, March 24 and squares Pluto on Thursday, March 29.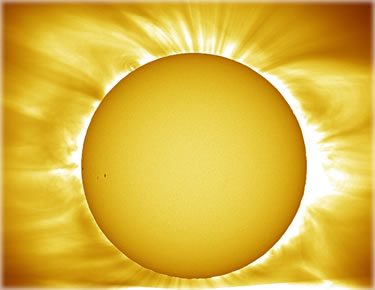 Total solar eclipse on March 29, 2006. Photo by Anthony.
But we're just a little ahead of ourselves: Thursday, March 22 is the Aries New Moon, a spectacular chart for many reasons, mainly because the New Moon happens so close to the Aries Point, that mysterious intersection of what we think of as 'public' and what we think of as 'private'. That crossing has been getting a lot of traffic lately — so much someone should put in a big stop light with turn arrows. It seems like the only things that do end up on the political stage have nothing to do with public policy — such as how to run the government or regulate big corporations.
Rather, we're in an era where debates over 'public policy' involve nothing but private matters, such as what your doctor can and cannot say to you, and in truth, whether you actually own your body. However, the real question is: Do you own your mind? Do you even influence it, and what do you do with the information it's sending you?
Said another way, are you able to utilize your creative power? We see this in the form of Mercury retrograde on the Aries Point (the first degree of Aries) for the New Moon (heading into Pisces). And speaking of Aries, its ruler Mars is retrograde as well, in the brainy sign Virgo — at the moment the astrology seems to be asking more questions than it is giving answers, though that changes soon enough. Remember that the more sincere your questions, the better the responses you'll get.
One other very noteworthy aspect in the New Moon chart is retrograde Mars opposite Chiron in Pisces. Mars retrograde has been stirring up all kinds of material, including the psychological baggage we carry around the theme of desire. Mars opposite Chiron focuses desire on the healing agenda, as Mars has a direct encounter with the deep consciousness and reparative quality of Chiron in Pisces.
In case you want to follow the play by play, here's a detailed overview of the events of Spring 2012. These are descriptions of the events themselves; the sequence is interpreted for each of the Sun signs and rising signs in the Spring Report.
Aries Point New Moon on March 22 – A spectacular New Moon conjunct Mercury and Uranus, with many other planets in Aries — including Vesta, Uranus and Ceres. This event is a portent of the many surprising turns of events over the next three months. While it looks like an event in linear time, this electrifying New Moon sets the emotional and mental tone for the next three to four months.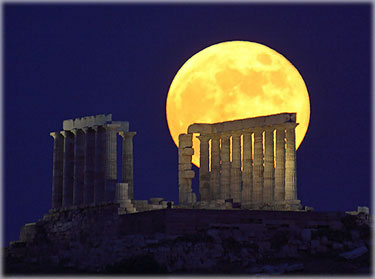 Solstice Full Moon over Sounion (temple to Neptune) near Athens, taken in June 2010. Photo by Anthony.
Sun square Pluto on March 29 — A turning point in its own right, this aspect between the Sun and Pluto turns the questions internally. Behind the stage show we're seeing in the media in the drama of our lives, there are pressing questions of growth, healing and personal evolution. Many of them involve our relationship to authority and how we tend to be willing to hand over our power — then wonder where it went.
Mercury retrograde ends April 4 — Mercury stations direct in Pisces, ending a three-week retrograde that began March 12. Mercury re-enters Aries on April 16, setting off the Aries Point again (ideas, drama, big news), and then makes a square to Pluto on April 25; once again we take what is personal personally rather than getting caught in the floor show.
Mars retrograde ends April 13 – Mars has been retrograde in Virgo since mid-January; it stations direct in early Virgo, in the process of making two oppositions to Chiron (as described above). There are many themes of focusing your healing mission and personal integrity; there is an essential blending of the concepts 'spiritual' and 'psychological'. There's something here about courage: invoking the warrior energy for the benefit of putting your knowledge to work. If you haven't read much about the current Mars retrograde, I suggest you check it out. Here is an article that opens the topic.
Sun enters Taurus April 19 — Taurus is a fixed earth sign, and the home of the Beltane cross-quarter day. Are you born under this sign? Here is a description.
Venus retrograde starts May 15 — Venus is making a rare retrograde this spring. We're going through a nearly simultaneous sequence of all three inner planets in retrograde motion in one season. Once again this focuses the energy inward and calls for a review of the past. Venus goes retrograde just after a natural holiday associated with her — Beltane. Astrological recommendation: have sex outside, praising the goddess of love and abundance.
Sun enters Gemini. Annular solar eclipse on May 20 – That would be annular, not annual. That's a total eclipse with the Sun a bit too far from Earth to fully block the Sun, but a powerful eclipse no less, which takes place in Gemini — the scene of much other adventure this season. This happens the day the Sun enters Gemini, which is unusual and compelling in its own right. Eclipses pick up the pace of existence, and act like convergence points where many different themes and events merge together. Events take on the sensation of being more significant and driven by forces outside our control; therefore, maintaining your power of decision at these times is that much more meaningful.
Partial lunar eclipse on June 4 — Corresponding to the Gemini eclipse, this is a partial eclipse of the Moon in Sagittarius. Note, from this point on, eclipses start to shift onto the Taurus/Scorpio axis. The next set occurs in November 2012. If you're super-curious about eclipses, here is a list of them from 2012 through 2017. The Sun also makes an occultation to Pluto in Capricorn — another eclipse-like event.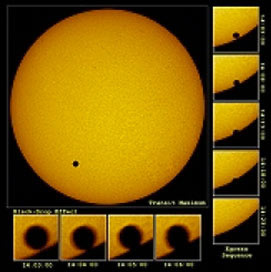 Among the most distinctive events of spring 2012 is the Venus transit of the Sun. 2012 event corresponds to one in 2004 — the next is in 2117. Photo by Anthony Ayiomamitis.
Venus transit of the Sun on June 5, in Gemini – The most distinctive event of 2012, a Venus transit is as rare as it is spectacular. If you have clear skies and daylight, you will be able to see Venus cross the disk of the Sun (using special glasses so you don't fry your eyeballs). Think of this as the emergence of the solar feminine — the assertive, creative side of the feminine soul takes up residence in consciousness. For many this will be about resolving competing agendas and personality splits. Note that on this day, Wisconsin holds its recall election. Here is an article on the 2004 Venus transit of the Sun.
Gemini New Moon on the Atlantis Point on June 19 – I call the degree 28+ Gemini the Atlantis Point because so many really strange things happen when planets show up here. I cover them in the article Here at the Edge of the World from last year — worth reading if you've been noticing how strange everything is getting. This is the degree that links together such disparate events as the Sept. 11 incident, the 2004 tsunami, Wikileaks, the charts for Japan and the 2011 nuclear disaster and much else. This New Moon occurs right before the solstice (adding emphasis) and sets off all of those charts at once. I really don't know what to say about this event but I predict it will be interesting — and we may get another little burst of the 911 Truth Movement.
Solstice on June 20 or 21 (depending on your time zone) — the new season begins, and the Sun once again aspects the Aries Point, Uranus and Pluto in close succession.
Uranus square Pluto June 24 – This is the first of seven squares between now and 2015, which focus the cycle that we last heard from in 1965-1966. We've been warming up to this event for a couple of years, particularly with the astonishing events of 2011, from Arab spring to the Wisconsin protests to the Occupy movement.
Venus stations direct on June 27 – This wraps up the rapid sequence of events with its roots in the Spring of 2012, and (with any luck) will come with a revelation about what it all meant.
Alrightie then! Now that I've left your head spinning, here is your extended monthly horoscope for April. If you're curious how all of these events influence you, that's why I've done the Spring Report. It's a passionate, positive, motivational audio compilation that covers all 12 signs.
All hail the new season and its many mysteries.
Lovingly,

P.S. You can listen to audio that covers many of these events in our Top Five Events of 2012 series. This is free audio connected with the 2012 annual edition.

Monthly Horoscope for April 2012. | Eric's Zodiac Sign Descriptions
Aries (March 20-April 19) — You could look at the whole human drama as a struggle with awareness. We already have the solutions to most problems; many of the most persistent have been solved at least 100 times. What stands between an issue and finding the answer is awareness, and often that translates to self-awareness. You have the answers you need; what you don't have, you can invent. You may not believe that, though to test the theory you merely need to slow down and be with your existence in a conscious way. Do this often, and with a touch of faith that might feel like 'suspending disbelief'. While your astrology certainly is illustrating an exciting trip through the outer world, other factors are pulling you deeper into yourself. Don't get too distracted by all the activity and drama — keep your focus on your soul, which I assure you will be easier than you think. You may even have a breakthrough, which could feel like accessing a deeper part of your consciousness that offers you better information about yourself than you've ever had. Yet this is about far more than you. Being invited into a contact point reminds you that in waking up, you're not alone — many other people are reaching a similar place within themselves. You'll recognize them more by the look in their eyes than by face; more by their tone of voice rather than the words they say.

Taurus (April 19-May 20) — The concepts 'Taurus' and 'change' sometimes seem to have nothing in common, but this is the season when you may shock yourself with how much stuck energy you can move in a short time. This month, Venus ingresses Gemini, where it will be until August — a long time for Venus to be in one sign. This is an extended special occasion, which includes Venus retrograde and the Venus transit of the Sun — a rare event that will be visible during daylight hours. One theme is a sudden, liberating release from the past. This includes moorings into history deeper than you remember, which will allow you to do something else — make contact with a point of origin or what you can think of as your original instructions for this lifetime. Don't worry if today you don't have any notion of what that means; live your life as normally as you can, but being responsive to opportunity, to chance encounters and to anything that has an odd sense of familia rity. In essence, the theme of this season is staying open to the experience of existence. Notice what seem to be random encounters, desires that come out of nowhere and people who you find unusually moving. Experiment with new activities, or going deeper into the ones that you love but have not had time for. What influences your life in these very days has the power to do so deeply, and in ways that can truly shift your reality.

Gemini (May 20-June 21) — Venus enters your sign this month, where it will be making some spectacular moves later in the season. These come along with eclipses in your sign and your opposite sign, Sagittarius — all of which I can sum up in one word: progress. This whole sequence of events is about getting all the seemingly separate parts of yourself talking to one another, working together, and gaining the kind of strength that comes from integrity. Whatever may change in the external world, remember that it's part of a deeper inner project, a growth project whose time has come. We're now at the very beginning of a long sequence of events that will gradually transform your life. The charts for April have a few bold reminders: one is to be flexible. This might include stretching out in the morning, considering different possibilities when you're making a decision, and being circumspect when considering an important subject. Another hint is to listen. Be receptive to what other people say, and listen to what you say. Hear your own words and consider their meaning. Get a feeling for where you're coming from. Part of the shift you're making is from mental intelligence to emotional intelligence — and all factors are pointing in that direction. How you feel about what is said to you, or what you say to others, is just as meaningful as the content of the words. Of course this is so obvious, most of the time only dogs notice that it's true, but we all have a lot to learn from them.

Cancer (June 21-July 22) — Maintain your devotion to your professional path — the one you're on, the one you've chosen, or the one you want. Do this diligently, as if something larger than you depends on your actions. Follow the momentum of your life as it carries you, and add extra focus, as if you're tending a fire that might go out, or might go out of control. You may not be able to see your destination (some would say destiny), and you may not be sure how to think about what you're doing. As regards to 'thinking', the most significant thing you can do for yourself is be conscious and review events carefully, though without being too critical, or trying to judge. There's a difference between judging and assessing; between criticizing and paying attention to details. Be particularly conscious of your use of language, which you can consider a kind of firepower. You're visible right now — visible to more people than you might imagine, or than yo ur present circumstances might suggest. That of course is not a good enough reason for maintaining your integrity, but it's as good as any. Over the course of the month, you begin to establish solid contact between your ideas and your aspirations. Old concepts that had merit come to life, and you will begin to see that there was a plan in motion all along. I'll emphasize again that much of your success comes from your precise and careful use of language. Creativity will follow from precision — so say what you mean and mean what you say.

Leo (July 22-Aug. 23) — You're near the end of a phase of sorting out. It's good to go through these from time to time, so you can establish your real priorities. Sometimes the sorting is imposed on you, such as when you're moving house and must decide what to keep and what to toss. Other times it's an internally driven experience, which seems to be what happened this winter. Note, this assessment is not quite over — it will take all month for you to prepare your final report to yourself. Be aware that what you're doing is establishing a kind of contract with yourself about what is the most important to you. You're deciding what you want to do with your precious time and energy, and moreover, you're making the decisions now that will influence your life for at least two years. There is part of you that wants to take a conservative approach, avoiding risks and staying to one side of a fine line. There's another voice in your mind that's saying now is the time to open up a bold vision and explore the world in a new way. The magnificent bird's-eye view offered by astrology is suggesting that these two values need not conflict. You can remain true to your most basic values and ethics while pushing open a new world of possibilities. Here is a hint: your experience will follow your personal development. You will discover something about yourself, and your agenda will follow that revelation.

---

Introducing the Planet Waves 2012 Spring Report by Eric Francis

Spring 2012 is the wildest season I've ever seen in 18 years of doing around-the-clock astrology [listen to short audio preview here]. It fits the 2012 pattern of 'everything, all at once', even making that sound like an understatement. I am working on the report even as we edit this issue, and it's coming out beautifully — every sign is coming through loud and clear and distinctive.

We have retrogrades of all three inner planets involved — Mercury, Venus and Mars. There is a rare Venus transit of the Sun — an exact conjunction of Venus and the Sun that you will be able to see if you have a clear view during daylight hours (you will need special equipment to protect your eyes). There are eclipses of the Sun and the Moon. And then, just four days after the Cancer solstice, we have the first exact square of Uranus and Pluto.

In honor of putting all this action to work for you, I'm preparing a special Spring Report for all 12 Sun signs and rising signs, as well as an introduction to the astrology that will be useful to everyone. This is a package of all 12 signs for one price. I'm designing it so that you can actually put many of the signs into use — for example, Virgo will be able to use the Gemini report as a career reading. Pisces can use Virgo's report as a relationship reading, and so on. I give suggestions at the end of each sign, and will do a detailed description so you can get maximum use from this product.

All 12 signs are now available for $24.95. The report is getting rave reviews from people who pre-ordered, including these words from a customer named Donna: "OMG — thank you thank you thank you — just spent this morning listening to my [Spring Report] info, and am so blown away by the accuracy (and relief!) in this experience. Thanks so very much for your part in supporting this work and for showing up in the way that you do!". Here is the link to order. Thank you, and enjoy.

---

Virgo (Aug. 23-Sep. 22) — Mars retrograde in your sign has been a long quest into yourself, which has taken you through many layers, and you've had a chance to get to witness your own process of conflict creation and resolution. In the process, you've passed through many different elements of your psyche: your desire nature, how and whether you have faith in yourself and others, and the interconnections between many seemingly separate things in your world. Yet this quest has had a deeper mission: learning how you experience and ultimately create your most intimate relationships. Many of the more painful questions of the past decade are starting to resolve themselves as you claim your strength with partners and loved ones. One element of this is recognizing what an integral role you play in the lives of the people you love; another is recognizing the ways in which you seek and offer healing in those situations. Yet the most meaningful information has come in understanding how significant it is to remain in contact with one fact: what you want. Desire in any form is often subject to a kind of guilt attack, especially for you. Yet you're waging nothing less than a revolution against this unnecessary, unproductive state of affairs, and in the process, you're regaining the ability to guide your life in healthy ways. You have learned that you cannot leave this to chance, nor can you leave it to others to decide what is good for you. Said another way, your life is your life.

Libra (Sep. 22-Oct. 23) — One thing you've likely discovered is that no matter how strange life gets, or how unpredictable, you're standing on a solid foundation. Though this theme is emphasized now, I trust that it's a gift you'll take with you even as one phase of planetary history melts into the next, and the next. Yet what is strong can always be stronger; what functions well can always be refined. That's the theme of the season that's just begun, and that will arrive with some of the most interesting developments for many years. All eyes will be on Venus, the planet that represents you in your own chart. You are on a quest that involves assembling the different elements of what seem to be competing visions for yourself. The coming astrology, as it influences you and all things Libran, is so astonishing I am reticent to make any predictions — except I can offer a couple of thoughts. One is that elements of life, and your ideas about life, that you thou ght had to compete with one another, actually support one another. You can let go of many 'either/or' type of equations; they are simply no longer valid. Yet as you transition from that as an idea to that as a fact of your life, a kind of miracle happens. Many other nagging issues resolve themselves. You will redefine your notion of what a problem is to the point where you recognize you have exceedingly few of them — or maybe none at all.

Scorpio (Oct. 23-Nov. 22) — As you know, we live in a culture obsessed with image, too often lacking any expression of what is real or meaningful. Any time you try to make an impression on someone, or lead them to believe something about you, stop and ask yourself why. Image is powerful, even dangerous, and for you this power must be applied to honest and worthy causes. Given that you stand at a major signpost of your life, it's time to inquire: who or what do your actions serve? Mars stationing direct (after a long retrograde which began in January) in an angle of your chart that includes the themes of service and your vision for your life, is a reminder that (in the words of Dylan) you're gonna serve someone (or something). That fact you cannot alter, though you get to decide what that something is, based on your true values. I don't just mean what might be external to you — I mean searching your depths for what you want to offer to the world. Mars retro grade in Virgo has infused your traditional ruling planet with all of the properties of that sign: attention to detail, devotion to healing, tempering aggressive impulses (particularly toward yourself), and the integration of your masculine and feminine sides. And then there is the famous Virgo theme of devotion to something beyond yourself. Yet what this really suggests is that you're expanding your concept of yourself, and can now bring together many elements of life you might have thought were separate.

Sagittarius (Nov. 22-Dec. 22) — One really beautiful element of your astrology right now is a rediscovery of what commitment means to you. You've had your ideas — and you know how well they've worked. You're now expanding into a whole new concept. It's more open minded and expansive than your prior ideas; you can think of the new concept as a house with many doors and windows, that allows in the light, and where everyone has enough room to exist comfortably. Said another way, commitment is about who you are, rather than what you promise. When you offer yourself, that's something you do with your entire being. One recent lesson involved taking care of the details in advance, so that you can proceed with that full sense of engagement. The old astrology books sometimes tell us that Sagittarius likes to skip the details, being more concerned with the broad strokes. Yet one message of the current Mars retrograde is that the details can set you free — if you address them before they become problems. They are opportunities to refine your goals, and with Mars about to complete its long retrograde through your house of ambition, you've been doing a lot of that. Make sure that you condense and consolidate your smaller objectives and never lose sight of what inspired them in the first place, or what they add up to when you consider them together. This is likely to come down to one significant decision you make right around April 14 — no sooner.

Capricorn (Dec. 22-Jan. 20) — One thing about living on this planet is that it helps to make friends with chaos. I don't mean warfare or pandemonium — I mean that slight sense of overwhelm, of not being able to keep your house neat, of orderly theories not quite fitting together with what we think of as reality. I am talking about the fertile chaos of not quite being sure what to do, and then you have a real idea. Or the feeling of figuring out that a whole bunch of what you believed in the past isn't true, which shakes your moorings — and in that moment you figure out something that is actually true and relevant for you. Travel can have this effect on us, by cutting us loose from familiar moorings, which in turn allows us to have a different experience of being. One expression of fertile chaos this month involves certain long-held goals. Some elements are working for you and worth keeping; others on review need to be updated or discarded entirely, to make room for new ideas. One cue to observe for the points of chaotic creative contact are stumbling blocks. When something gets in the way, stop and rethink your plan. When you are typing and type a wrong word, read what that word is and see if you're trying to tell yourself something. If you lose track of your plan, ask yourself what your objective really is. And most significantly, if someone randomly tries to mess with your idea, listen carefully.

Aquarius (Jan. 20-Feb. 19) — Many years of relentless pressure have left you in possession of a secret. You hold the key to understanding evil. By this I mean the force within the psyche that guides people to treat one another badly, or unfairly, or dishonestly. I'm also speaking of the impulse to deny oneself, or to deny others. And I am speaking of that strange thing that encourages people to give up their power and go against their own values. You understand the concept of a motive. There are other ways to grasp this, though if you think about it starting with the dark end of the concept, you have the orientation you need to guide your experience into the light. You're able to remember the one thing that everyone wants to forget, and that many are trying desperately to conceal from themselves — and because of this, you have a distinct advantage. One way to say this is that you're not trying to fool yourself, or that your learning has reached the point w here you see the danger of trying to. Whatever you may be doing, one thing to remember this month is that you're in a position of leadership. This may not be about formal authority — rather, it's a leadership of ideas. You are setting the example of what it means to have a responsible worldview, and also one that's oriented in the future. One of your most valuable teachings is reminding people that we must do better than 'every man for himself'.

Pisces (Feb. 19-March 20) — This time in your life is an experiment with what it feels like to have an enhanced sense of self-esteem. This is the sensation that you belong on the planet, that you have a mission, and moreover, that you possess the personal resources to accomplish it. When we talk about the lack of self-esteem, these are the elements that are most often missing. I'm not sure, on the personal level, what it is that can make up for the loss; though it's easy to see in your solar chart that you're well on the way to doing precisely that. There are of course pitfalls that you'll encounter along the way, but if you know what they are you won't need to step into them — you can go around them. For example, you may be accompanied by some persistent questions about your existence. These can be turned to strengths. You may have the sensation that few others understand you. Yet if you're alert for those who have similar values as you do, or similar mot ivations, you will feel a greater sense of companionship. As for personal resources: I do mean personal. This includes creativity, intelligence, problem-solving ability and ethics. Yet the bridge you will be crossing every day is the one that goes over the gap of applying these things to real-life situations. Your job is to put your mind to work — and this is about making a conscious and ongoing choice.