@AnandWrites: 70 yrs. after 1945, Americans are debating how to mass-deport 11 million residents, while Germans are welcoming 800,000 political refugees.
Everyone is welcome. That is what the sign on the verdigris-colored lady on that tiny island off the coast of New York City means. And by looking at all of us, everyone — with the exception of the Native-born who have been here millennia before Europeans arrived — came from elsewhere. We are the great social experiment of the modern world. An amalgam of races, languages, religions and cultures edging towards each other under one country. And yet the world is moving faster, and more countries are experiencing that same type of cultural pressure.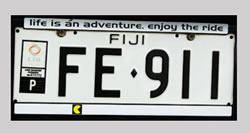 The "edging" of cultures has never been happy or peaceful. But that struggle is part of the dynamic that makes the US the strange creature that it is: often violent, resistant to change, xenophobic, yet with time, ultimately accepting and embracing the differences. As long as there's work for everyone and enough to go around, we end up coexisting in a cautious peace.
My immigrant story may be like yours. My father was made a citizen when Hawaii became a state. He brought over my mother from the Philippines and by marrying an American citizen, mama became naturalized, having to register every year.
I grew up surrounded and raised by Filipino uncles from my mama's family, and the other "uncles" — an extended family of Filipino men who left the islands in the 1920s because jobs were more plentiful overseas. They worked in the agribusiness as irrigators for the lettuce and strawberry fields in the Salinas Valley.
My Uncle Frank — one of the first Filipinos to arrive in Northern California as a farm worker — rose to become a labor contractor, which in his day meant he would drive a large green bus down to the border south of San Diego — a 14 hour trip — to pick up "braceros" — farm workers to work the fields up north. There was little to no immigration control those days. Everyone looked the other way. Frank was so successful at procuring labor that he rose up in the ranks of company management, bought a house in a nice part of town and became quite wealthy.
Since both of my parents had to work to help pay the bills for two growing children, my day care was first with my grandfather. When he died in 1961, my dad and his Mexican kitchen assistants took over. My early childhood was spent in my father's kitchen, where he cooked three meals a day for over 200 men during the height of the growing and harvesting system. There were no office jobs for my father in Northern California like the one he had in Hawaii, where he worked as housing manager for the Dole pineapple company. In California, he was a former executive who was doing kitchen work at $2.50 an hour.
As a child, I had no idea of what it meant for my father to be doing this kind of hard work. I only knew him to be a very intelligent man working in a very hard job. But I also loved the sights, sounds and tastes of the kitchen. I experienced the "feel" of excitement of the hungry men, waiting in line anxious for my father's famous pozole — a stew of pork, hominy, onions, garlic and tomatoes.
I remember the lines of men who crawled over to my father's truck late Saturday morning in the lettuce fields. Because everyone was hungover from their Friday payday partying, the smell and taste of menudo — a tripe stew typical in Mexico for a hangover cure — was deliciously welcome relief.
I grew up brown in a town where the majority was white. Mostly they were of Portuguese and Yugoslavian descent who came the late 19th century and the early part of the 20th. My parents admonished both me and my sister to speak only English in the house. And my interest in reading — particularly my father's books by Robert Graves — helped me advance my understanding of English, making me capable of using big words in early grade school, and knowing what they really meant.
To this day, whenever I eat alone in a restaurant, I feel most comfortable in a table or counter seat closest to the kitchen. Close to the hum of the kitchen staff predominantly from Mexico and Guatemala — now here in California. It's the language and the sound of these men and women at work that provides me a strong connection to my home, my history and my place in this present-day world.
The men working on my plate are no different than the ones who worked with my father in his kitchen. With each plate I receive I am grateful, trusting it, because I know where it comes from, the soul put into it, and remember the struggle it took for them to get here to make this plate of food for me to eat, because it was also our family's struggle. I always tip too much.
Migration is part of human experience on this earth. As we witness Syrians in mass exodus escaping civil war, we watch the various reactions from different countries as they attempt to assimilate or deny entire populations into their countries. This is not the first time this happened on the planet, nor will it be the last.
Our current bout with xenophobia against Mexicans and other Latin immigrants who, like me, have gained a foothold and a powerful, credible presence in this country on every level — that is the marker of how far we've come since my childhood and the days when undocumented immigrants was standard business practice. It still is. Donald Trump's rhetoric is painful, but a blip in our history. He is just one more hurdle to jump in a line of hurdles that will inevitably come, be discussed and argued, and ultimately dismissed with the full acceptance of theirs and all our place in time in this country.
War, economic pressure and climate change will create more mass migrations to safer places, bringing their cultures and languages everywhere, including here. The Syrians are experiencing what we experienced before in previous generations. Their immigration is sudden and massive, like the Europeans in the late 19th and early 20th century. And like them that came before, they will also be in need.
This has been the history of the planet since civilization began. It's not just our borders, but borders everywhere that will be affected; this time through the whiplash created by our ways of doing business, conducting wars against other governments and continuing our absurd war on drugs, as well as how we're treating the earth.
Like my story, the determination of political and economic refugees to survive in a foreign land and to keep a hold on their cultural identity is what they're bringing to other shores in the developed world. Our challenge in this rapidly-changing planet remains to face this without fear of them, or of not having enough for ourselves to share. There is always a way to open the door, always a way to say "everyone is welcome." Call me naive, but there has to be. This smaller, more pressured world gives us no other choice but to share.