Over the last century or so, astrologers have managed to accomplish quite a lot, almost in spite of ourselves. One of the greatest achievements of modern astrology has been to separate a lot of ancient chaff from the abundant germ of timeless wisdom. This is especially true of polarized (and polarizing) concepts such as "good" and "bad".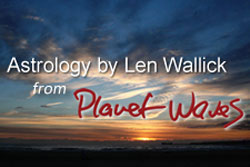 To cite just one example, ancient astrology often divided planets into "good guy" and "bad guy" categories. For those who speak and write in English, the good guys were usually referred to a "benefics" and the bad guys "malefics".
Largely beginning in the 20th Century highly proficient and erudite astrologers started calling some long overdue "B.S." on the strict doctrine of benefics and malefics. In spite of their efforts, it would appear that old habits do indeed die hard.
Foregone astrological reputations continue to provoke unjustified overreactions even today. Indeed, as recently as in the Oct./Nov. 2014 issue of "The Mountain Astrologer", Robert Hand (probably the most esteemed astrologer of our time) felt compelled to flatly reiterate that "there are no benefics and no malefics."
What many modern astrologers have proposed instead is that every planet, sign and house have their upsides and downsides – and even those are subject to context.
One of the things distinguishing 2017 is that it looks to provide some very informative contextual perspective regarding the more challenging facets of the two most prominent old-time benefics (Venus and Jupiter), starting this weekend.
Today, Venus enters Aries. Late on Sunday (or early Monday, depending on your time zone), Jupiter will station retrograde in Libra. For a complex combination of reasons, both of those events look to initiate a period of three to four months (at least) when you will have an opportunity to: (1) experience the downside of both Venus and Jupiter, and; (2) realize that even the downside is not necessarily all bad.
If you were to reduce the downside of both Venus and Jupiter to a single word, it might well be "excess." In other words, too much of even a good thing is still bound to be too much, period. With Venus, excess tends to express on a personal level with issues such as attachment, accumulation, even hoarding. Jovian manifestations of excess on the other hand, are often seen on the social level.
Wherever and whenever you witness exaggeration, over-expectations, over-promising and/or overreactions in the the public sphere, Jupiter is probably somewhere in the woodpile. Beginning next week (and at least until Jupiter resumes direct motion again on June 9) Jupiter's retrograde could very well serve as a time when even apparent disappointments eventually reveal their corrective silver linings.
For its own part, Venus also has a retrograde coming up. Before having gone even halfway through Aries, Venus will shift into reverse on March 4 and temporarily retreat back into Pisces before resuming direct motion on April 15. Any literal or metaphorical "letting go" you can manage during that period will likely leave you feeling relieved in the long run, even if it feels difficult at the time. In addition (and again, for a complex combination of reasons), any such personal relief you can manage for yourself could well translate into your being wiser, without necessarily having to be sadder, when it comes to where your life connects with the world.
Interestingly, Venus (after returning to Aries a second time) and Jupiter (still in Libra retrograde) will precisely oppose each other on May 19. You might want to mark that date on your calendar now. In all probability, that's when you will at least have begun to see both your life and the world much as most astrologers have now come to look at the planets: both more authentic and complex than previously perceived by even the wisest who have gone before.
Offered In Service