Among the factors distinguishing the astrology of 2017 is two objects entering the same sign in quick succession. Along with at least one other repeating motif (that of significant events taking place in the penultimate degree of a sign) the theme of a rapidly emulated ingress will be part of the scenario for the total solar eclipse in the 29th degree of Leo on Aug 21.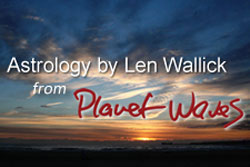 Less than two hours after the Great American Eclipse, the Moon will move on to Virgo. The Sun will follow into Virgo the next day. To cite just one other amazingly timed example coming up, Saturn will enter Capricorn only about 36 hours before it is joined by the Sun in an extraordinary cardinal point solstice conjunction on Dec 21.
This week, the zodiac equivalent of two or more meaningful ingresses in a row will be initiated by Mars. On Thursday, Mars leaves Cancer behind to enter Leo. On Saturday, the Sun will follow suit.
Then, on Sunday, the Moon will enter Leo for an unusually resonant New Moon conjunction with the Sun a little more that one hour later. Needless to say, Mars will still be in the same zodiacal neighborhood.
There are many useful metaphors for how an ingress expresses. To cite just two, the object in question can be thought of as an actor changing costumes (and hence roles); or an athlete removing one uniform and putting on another (consequently moving on from one position to another, one sport to another, or even from one team to another).
If a famous professional athlete gets traded, it takes a while to get used to seeing her or him playing for another side. Imagine the same thing happening to several teammates at once, and it gives you an idea of what to expect after Mars enters Leo Thursday (and, by implication, what to expect in part for this entire year).
Should you find yourself a bit disoriented later this week, it might simply mean you are (on some level) paying attention. Wouldn't that be better news than mistakenly assuming you are lost?
If your life seems to have been (and continues to be) one thing after another in rapid succession, it is not necessarily a bad sign at all. In fact, you should feel at least some reassurance if your existence is being distinguished by some of the same themes implicitly evident in how the solar system as a whole is moving and interrelating.
Of course, it helps to be aware. It is useful to know your physical location and what comes with the territory. Knowing what day or time it is comes in handy. The same goes for distinguishing themes, and the defining timeframes during which they are expected to take place.
Simply being present to at least some of the astrological tableaux which have been (and will continue to be) repeated during this calendar year could make a very big difference for you — especially if your life is evidently moving in parallel. That way, instead of wondering what's wrong, you will have the perspective to see just how right things (and you) can be — even if some adjustment is occasionally required.
Offered In Service