Earlier this year the zodiac was a bit lop-sided. For example, during the March 20 solar eclipse the Sun and Moon shared the last degree of Pisces while Mercury, Venus, Mars, Uranus, Neptune and Chiron were all clustered nearby in a corridor of less than 60 degrees.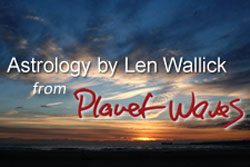 That corridor spanned from Neptune at 8+ Pisces to Venus at 3+ Taurus. The Moon, of course, moved on quickly.
Only this week have the rest (Sun, Mercury, Venus, Mars, Uranus, Neptune and Chiron) gradually dispersed from each other to spread out over 90 degrees: from Neptune at 9+ Pisces to Venus in the middle third of Gemini today.
As result of the dispersing, the planets that were all so closely clumped together are now opening up to a greater range of major aspects with each other. That implies a greater range of possibilities in your life.
The major aspects begin with the conjunction, two objects occupying the same degree of the same sign at the same time. This is a temporary merger of energies beginning a new cycle between the two planets in question.
After the conjunction, the major aspects are sextile (a separation of 60 degrees on the zodiac and in the sky), square (90 degrees), trine (120 degrees) and opposition (180 degrees — on opposite sides of the zodiac and the sky).
We had a lot of conjunctions among the clustered planets earlier this year. You probably felt it. It was a lot of different energies mashing up. There was a sense of initiation, which was cool. There was also some frustration going around. A sense of confinement was common. The word "cluster" was frequently being used in a less-than-pleasant linguistic conjunction with another word, which (as Lenny Bruce pointed out) deserves a better reputation for its life-giving correlation.
You may remember all that. You might even have done some of that. You could even have conflated shaking the cage with escape. On the other hand, you might have seen reason for patience in the astrology and in your life.
Regardless, now the planets that were so recently so close together are dispersing. As the cluster spreads out, the conjunctions earlier this year are opening to supportive sextiles and maturing to challenging squares. Along with the dispersal there is a sense of greater possibility, an imperative to stretch or reach out, and a way of getting stronger.
That's one trend in the sky. One question is whether you perceive how the trend might apply for you. There is bound to be a way. Surely some new possibilities have recently opened up that were not there for you earlier this year. Either that, or you can create a possibility for somebody else.
Even if some of your options are challenging, it's probability better to stretch into them than pull back. Think about making an offer, or accepting one. You might even want to redeem that life-giving word you abused not so long ago. Be like the sky. For the time being at least, it would probably be worth your while to try.
Offered In Service
Len is available for astrology readings. You can contact him at lenwallick [at] gmail [dot] com.