Welcome to Planet Waves. Our memberships, readings and classes are designed to give you the ability to inform and empower yourself, and to find healing and help where you need it most. Please feel free to browse, research samples and enjoy our open content. If you have any questions, you may reach us by email at
cs@planetwaves.net
. We are always happy to help.
With love from the Planet Waves staff.
---
Featured | The Sacred Space of Self: 2018 Spring Reading by Eric Francis Coppolino
Chiron is now in Aries, for the first time since 1977. This is about the quest for individuality in the most deeply personal way: the cultivation and growth of your soul. There are challenges associated with doing this, which I plan to address eloquently and in a way that you will find reassuring and helpful. Chiron in Aries is good news for those who love learning about themselves, growing and living in a way that is fully committed to who you are.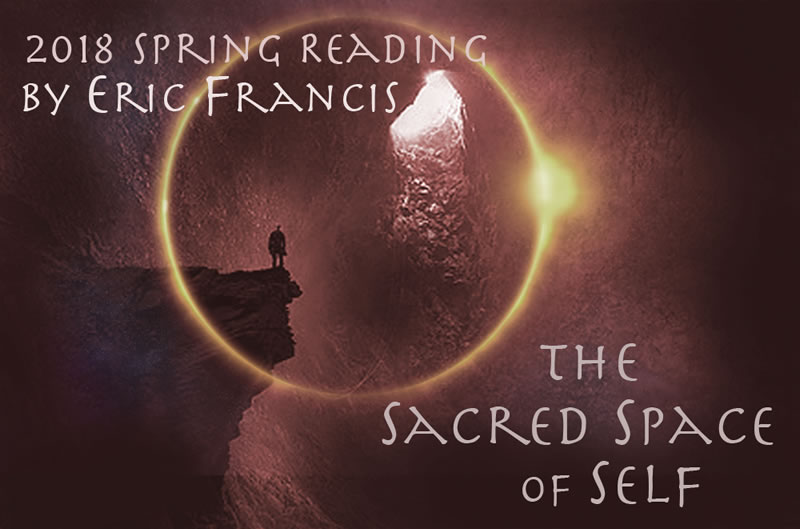 Following up on The Art of Becoming 2018 annual edition, we offer you The Sacred Space of Self.
This 2018 Spring Reading is in the form of 12 video presentations, each approximately half an hour in length. These readings will apply to Sun sign, Moon sign and rising sign. They are offered as a package, and will interlink with and support one another.
One topic Eric focuses on is the special challenge of growing and evolving when you're involved in an intimate relationship — and your partner is not growing as fast as you are, or does not want to.
The Sacred Space of Self will cover Chiron's transition into Aries over the next nine months. Eric also looks back at Chiron in Pisces, which began in 2010, and will give a detailed reading of Mars retrograde in Aquarius (June 26-Aug. 27). And he'll introduce Uranus entering Taurus.
You may order all 12 signs here for just $99; the reading is now available for instant access. You can also choose your individual signs here.
Note:
If you're a Backstage or Galaxy Pass holder, this reading is included with your membership. If you would like to make a token contribution toward the project,
you may use this form
. This is not a purchase — it's a donation. Thank you for your generosity.
---
Latest Birthday Readings for Your Sign
Superb, relevant, thorough astrology for the price of a restaurant meal
| | | |
| --- | --- | --- |
| Taurus 2018-19 Birthday Reading | Gemini 2018-19 Birthday Reading | Cancer 2018-19 Birthday Reading |
| Eric Francis gets Taurus like Melissa McCarthy gets Sean Spicer. "The most mental sign"? Who else says that, plus connects it to the air signs (and Virgo) with such clarity? — Cheryl Corson | I am very happy with my purchase of the Gemini report. It speaks volumes to me. Your work has always offered me food for thought, options to consider and clarity when needed. — Victoria Bouet | I just wanted to acknowledge how beautifully insightful your work always is. Thank you so much for continuing to be such a guiding light along the way. — Maureen |
---
Seasonal 12-Sign Readings by Eric Francis
| | |
| --- | --- |
| The Art of Becoming: 2018 Annual Reading | In the Shadow of the Moon |
| | |
| --- | --- |
| | |
| Eric's annual readings provide not only insight but spiritual and psychological leverage. He is not here to predict the future, but rather to help you design your future. Even by contemporary standards, 2018 is a distinctive year astrologically. The Art of Becoming offers in-depth, valuable guidance for navigating it in 12 chapter-length readings. Eric brings all of his talent and experience to this work. | The 2017 Midyear Reading looks into the next few months and even into 2018. Chiron will be exiting Pisces and entering Aries; Saturn bids adieu to Sagittarius and comes 'home' to Capricorn; and Uranus will leave Aries behind and light up Taurus for a few years. No matter what your Sun, Moon or rising sign might be, these shifts to the astrological landscape will have a specific impact in your life. |
---
Astrology and More — Classes with Eric Francis
I have recently become more inspired to pursue and study astrology more seriously. When I saw Eric would be teaching a class on retrogrades, I knew that he would more than likely be the best source for this knowledge. [And he was!!] Thank you Eric for continuing to have these classes! They are wonderful.
— Stacey Katz
You can now order any of Eric's classes, past or present, using the links below — either as bundles or by themselves. The most recent class was Business, Finance and Astrology. You may order that here.
All classes include a full recording of the session, a thorough and informative resources page, and an opportunity to continue the discussion once the class is over.
---
I'm proud (yet humbled too, if that makes sense) to be a member of the Planet Waves community. You can not pay enough anywhere for the quality — and quantity! — of astrological journalism found at Planet Waves. I devour everything; because of it the world and my own universe makes more sense. I've been a student of astrology for more than four decades, yet every day I learn something new and important on PW. — Lesley Doetsch Phillips
| | |
| --- | --- |
| | The Horoscope Lover membership is our most basic level, available on a monthly recurring basis or for one year. That gets you the Monday Morning Horoscope, Planet Waves FM and the Thursday full edition by email, with limited access to the website — as the name suggests, useful if you're mainly interested in the horoscopes. |
| | Our standard membership is the Core Community Membership. This gets you the Monday Morning Horoscope, Planet Waves FM and the Thursday full edition by email; plus unlimited access to the website and archives. Sign up for one year or six months, or on a monthly recurring basis. |
| | The Backstage Pass gets you everything under the Core Community Membership, plus all 12 birthday readings and the Spring and Midyear reports, and discounts on everything else. Backstage Pass and above gets priority on personal consultations with Eric. You can sign up for one year, or on a quarterly or monthly recurring basis. |
| | Finally, we have the Galaxy Pass. This is our VIP membership for serious investors; a special all-inclusive package that gets you unlimited access to all Planet Waves materials, plus $150 consulting credit and privileged, personal contact with Eric and the team. You can sign up for one year, or on a quarterly or monthly recurring basis. |