Meaning is not in things but in between them.
— Norman O. Brown
Assuming the late Professor Brown was correct, there will be significant meaning for you to find in between now and the Leo Full Moon taking place on Tuesday just before 6:09 pm EST (23:09 UTC). Hence, this advance notice — so that your own capacity to accommodate increased meaning will have time to grow apace with the waxing Moon.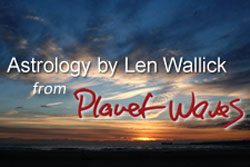 Like all oppositions of the luminaries (Sun and Moon), Tuesday's Full Moon in Leo will find Earth between Luna and the Sun (in this case, an Aquarius Sun). Also, as with all fully lit Moons, Tuesday will find you, and everybody else at the same time, precisely in between lunar conjunctions with the Sun (also known as New Moons).
Therefore, any meaning to be derived from (or discovered on the way to) Tuesday's Leo Full Moon will be neither distant nor elusive. It will be directly under your feet and in the moment — of that, you may be assured.
You may also be assured however, that the meaning to be found between now and the Moon's next maximum illumination will be more manifold than usual.
That's because the Aquarius Sun opposing Tuesday's Leo Full Moon will itself be rather precisely (to the degree) between seasons. While the Sun reaches the middle of Aquarius once a year just like clockwork, halfway between the Capricorn solstice and Aries equinox, the luminaries are rarely in opposition on the same day.
Additionally (as explored here earlier this week), at the time of Tuesday's Leo Full Moon Mercury and Jupiter will both be in between their respective retrograde and direct stations.
Finally, just at the moment of Tuesday's luminary opposition, the Leo Full Moon will be in between Uranus (in its Aries lair) and the Sagittarius conjunction of asteroid 2 Pallas with the Great Attractor. All together that forms a very tight grand fire trine overflowing as much with mystery as meaning.
At the same time, the Aquarius Sun will find itself at the midpoint of not only a season but also a sublime and nuanced sextile from Chiron (in Pisces) to Pluto (in Capricorn).
Whew! That's a lot of in-between for one Full Moon, and implicitly a lot of meaning either to be found, confronted with, or caught up in.
So that you will be able to work your way up to accommodating all the meaning Tuesday's Leo Full Moon might offer (as opposed to being overwhelmed all at once), what now follows are some temporal milestones. In between now and then, they might help you to expand your capacity to reflect the occasion even as the Moon expands in luminosity.
At about 6 pm EST later this evening (Thursday), the Gemini Moon will be in between an opposition to the Sagittarius conjunction of Pallas with the Great Attractor and a sextile to Uranus in Aries. This will be a good time to think about that fire trine the Moon will form when it reaches Leo.
Think about how flow (which trines represent, among other things) can make things easier but also sweep you away, depending on your relationship with it. Think also about how symbolic fire relates to both presence and consumption.
Overnight between today and tomorrow (Friday), the waxing Gemini Moon forms a tense square with Chiron's position in Pisces. Thus, as Chiron would have you do, give some attention to whatever subject matter comes up with your next sleep (or lack of it).
When the steadily augmenting Moon enters Cancer as Friday segues into Saturday, it will be applying to oppose Pluto in Capricorn while also moving to form a flowing water trine with Chiron. Both of those lunar aspects will become exact early Sunday morning. Use that time to compare how your feelings have evolved from thoughts today.
Finally, when the Moon enters Leo after Monday is well underway (12:41 pm EST), it would be a good time to bring your experiences from the later half of this week forward and (if necessary) pull yourself together.
So, that's your proposed protocol, in order to be on top of the flow rather than be pulled under with it, and to be looking up rather then cast down. Observing these markers may allow you to be both present and open to accommodate the illuminations of what looks to be a Leo Full Moon implicitly wound up with meaning, even as Tuesday winds down.
Offered In Service
Len is available for astrology readings. You can contact him at lenwallick [at] gmail [dot] com.