Some basic principles of astrology carry over to life in general. The importance of timing is but one case in point. If you need daylight to complete a particular task, it's probably a good idea to start in the morning. Specific to astrology, there is the ancient practice (still observed by some) of planting seeds during a New Moon.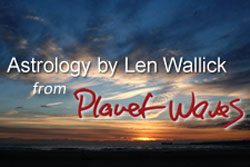 The reasoning behind planting at a New Moon is simple. Once every month or so, the Sun and Moon move through the sky together for a day while also sharing the same degree of the same sign. On that day, the old cycle of lunar phases ends, and a new one begins — unseen like a seed in the ground.
Right now, we are about three weeks from the next New Moon. In addition (and as noted in this space previously), it will be a while before there are similar meetings among planets which can be observed without magnification. Even so, astrology observes events other than conjunctions that can be interpreted as auspicious when it comes to scheduling. An example pertinent for the very near future is when a planet leaves one sign behind to ingress another.
There are many ways to express the relationship between a given planet and a particular sign. Shamanic astrologer Sheila Belanger compares a planet to an actor and the sign to a costume. You might also think of how some young athletes move with the seasons from one sport to another. You could even get extremely abstract, such as Bertrand Russell did when describing Einstein's relativity as an interaction between "event" and "field."
Regardless of how you describe it, an ingress is significant. Hence, you may want to consider going beyond merely paying attention to what happens when first Mars, then Venus and finally Mercury leave old zodiacal territories behind to engage afresh over the next handful of days. You may want to experiment.
This coming Sunday, Mars will end a traversal of Gemini that started back on April 21, and move on to the next sign: Cancer. Two days later (on Tuesday, June 6) Venus will at long last enter Taurus (one of its two astrological dominions, along with Libra). Just hours after Venus transitions, Mercury will make a similar Tuesday entrance to one of the two signs it rules (in addition to Virgo): Gemini.
The astrology of three sign changes within three days is inherently complex. This particular preview however, will be short and sweet. In short, you could plausibly devote the time between now and the middle of next week to safely try something (or things) that you have curious about. Then, beginning Wednesday (or soon thereafter), endeavor to repeat as closely as you can the same experiment(s) after Mercury, Venus and Mars have all re-ensconced for the longer term.
The nature of your ventures need not be especially adventurous. The first step is to satisfy a personal, but as of yet unsatisfied, intrigue. Then (after Mercury, Venus and Mars have re-positioned themselves), the next step is to contemplate how much you brought to the new experience versus how much the experience brought to you.
Simply trying a new type of coffee later today or tomorrow, then following up with another cup a week later could be all you need to do. The idea is to subject your desire (Mars), tastes (Venus) and thinking (Mercury) to unaccustomed exposure (which correlates to a new sign).
The protocol described here is to be your own astrologer in a very real way through the use of timing. It's a chance to transform what previously had been only a story into life — your life. If there is anything to astrology, the time is right.
Offered In Service
---