If you consider the distribution of sign-ruling planets, it's evident that the zodiac is rather lopsided right now. Today the Sun, Moon, Mercury, Venus and Pluto are all clustered in either Sagittarius (ruled by Jupiter) or Capricorn (ruled by Saturn). That's just one-sixth of the sky. But wait, there's more.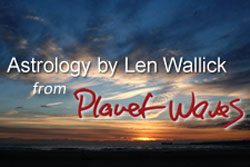 Throw in Mars in Aquarius (traditionally ruled by Saturn, now co-ruled by Uranus), and Neptune in its modern Pisces domain (originally ruled by Jupiter) and you have eight of the ten sign-rulers in just one single quadrant of the zodiac.
The other two are Jupiter and Uranus. Jupiter is ensconced in Libra (ruled by Venus, which is now moving through Capricorn) until late next year. Uranus, for its part, is doing a significant deed with Eris in Aries (ruled by Mars). In other words, by either direct location or symbolic association, the roads being traced by the most astrologically significant objects in the solar system all lead back to either Jupiter or Saturn at this time. It is a situation that will continue through the end of this year and well into the 2017.
Jupiter and Saturn have an interesting relationship. You might consider them to be complementary, but on a different level from the very personal yin-yang dynamic that the relationship between Venus and Mars represents. When you consider both their size and orbital periods Jupiter and Saturn are evidently emblematic of something bigger and more enduring than purely personal concerns.
You would not be wrong to label Jupiter and Saturn interpersonal planets, corresponding to the concerns of entire generations. Jupiter, in the words of Robert Hand, "is a planet of growth and enlargement." Its downside is excess.
Although ancient astrological tradition is not as kind to Saturn as it is to Jupiter, it also has a very real upside having to do with definition and structure. On its better-known downside, Saturn correlates with confinement and oppression. When their upsides are emphasized and in balance with each other, Jupiter and Saturn combine to represent the characteristics of both a healthy life and a functional society: enough expansiveness to be inclusive and enough structure to hold together.
When the downsides of Jupiter and Saturn are emphasized, or when they are out of balance with each other, things tend to get dysfunctional. That's where you come in. It is people, both separately and collectively, who decide how and when to assert the combined qualities of Jupiter and Saturn. If you look at your life right now, you will probably see Jupiter and Saturn operating together for better or worse. Simply being aware means you can act as a moderating influence if necessary.
On the larger, interpersonal scale of current events, it is abundantly clear that the combined natures of Saturn and Jupiter are both evident and in need of moderation. Principles of inclusiveness are taking a beating. Where structure is not falling apart, it is serving to confine rather than helping to define vast numbers of people. Excess is everywhere. Simply being aware of those dysfunctions also serves as a guide towards which actions would be most timely and efficacious.
Weather permitting, the current distribution of visible planets makes for some good astronomical viewing, especially in the western sky just after dark. Astrologically, the picture is both bigger and deeper. Beyond the current symbolic dominance of Jupiter and Saturn, there is something more — a clear indication that simply looking on will not function to change anything at all.
Offered In Service