Dear Friend and Reader:
As of 7:11 am EDT (11:11 UTC), Jupiter is now in Virgo. It will be there for the next year or so, which means you have some time to adjust to this new feel. To help you navigate the transition, here are the August horoscopes for Marie Claire magazine, written by Eric Francis.
Eric returns to Planet Waves FM today (and the rest of Planet Waves this week) with some stories from his recent trip to the Bay of Fundy and Nova Scotia in eastern Canada.
Astrology covered on today's program will cover the Leo New Moon and Jupiter leaving Leo and entering Virgo this morning, plus retrograde Venus conjunct the Sun. Filling in a bit more detail on that, this week we reach the peak (and midpoint) of Venus retrograde, as Venus passes between the Earth and the Sun.
Today is also the 14th anniversary of the Aug. 11, 2001 Presidential Daily Brief — wherein George W. Bush was warned by CIA officers about 9/11. Eric will look at that chart.
Musical selections for today's program will be traditional Acadian music — that is, party tunes of the people who settled Nova Scotia in late 17th century and became the Creole people of New Orleans.
I've written more about this week's major astrological shifts in Monday's Astrology Diary. If your energy was feeling a little 'odd' or 'edgy' to start the week, or the waning Moon has you slowing down, you're in tune with what's happening. Mercury opposite Neptune offers a caution to notice what you do and do not know for sure in your dealings with others.
As usual on the Planet Waves website, we have a wealth of offerings from our many talented writers: Judith Gayle, Sarah Taylor, Amanda Moreno and Fe Bongolan have all published in the last few days (use the "Older Posts" button at the bottom of the front page to get to columns published over the weekend), as has a sex-and-relationships guest-post.
Coming up today and tomorrow, we'll have columns by Len Wallick, Madame Zolonga and myself.
In Eric's Midyear Reading for this year, called The Art of Living / Astrology for Artists, he devotes considerable time to the cusp between Leo and Virgo, which Jupiter just crossed and which Venus will cross again in October. In part, this is where you can take the curiosity and experimentation you've been enjoying, and start directing it into service and healing.
We've received incredibly enthusiastic responses to these readings, including the following from Amanda Moreno:
"Listening felt like a warm hug of solid encouragement and support. The reading validated my experiences of late at a very deep level and left me feeling inspired and filled with a undeniable knowing that I am in fact in the process of merging — at a cellular level — with my purpose here on the planet. It was one of the best pep talks I've ever had."
Who doesn't need a pep talk once in a while?
Yours & truly,



Amanda Painter
P.S. You have a last chance to purchase the Leo Birthday reading at the pre-order price! Now that Eric is back from vacation, he will be recording it soon; it makes an excellent gift to carry your Leo loved ones through the year.
Planet Waves (ISSN 1933-9135) is published each Tuesday morning and Thursday afternoon in Kingston, New York, by Planet Waves, Inc. Annual basic subscription rate: $97/year. Core community membership: $197/year. Editor and Publisher: Eric Francis Coppolino. Web Developer: Anatoly Ryzhenko. Office Manager: Lauren Gdovin. Astrology Editor: Amanda Painter. Astrology Fact Checker: Len Wallick. Copy Editor and Fact Checker: Jessica Keet. Client Services: Amy Elliott. Media Consultant: Andrew Marshall McLuhan. Research, Writing and Editing: In addition to those listed above, Planet Waves is produced by a team consisting of Fe Bongolan, Judith Gayle, Kelly Janes, Amanda Moreno, Carol van Strum, Len Wallick, Lizanne Webb and Chad Woodward.
Early praise for the 2015 Midyear Reading, available now:
The reading not only got what I am actually experiencing, but truly helped me name what I have been dreaming about! I am just beginning to realize that these are things I've always wanted. You helped de-code the language of the twins inside. – Fe Bongolan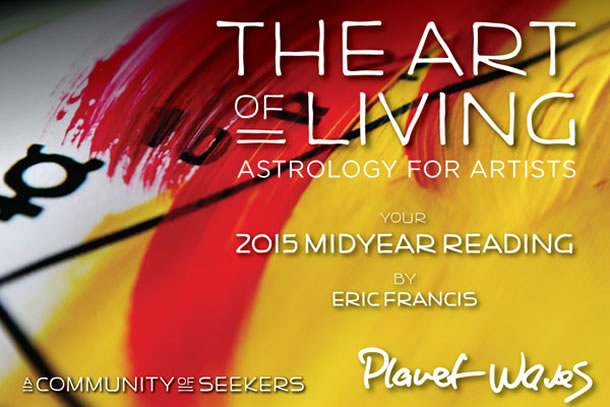 The 2015 Midyear Report is now available for instant access — The Art of Living / Astrology for Artists. The theme is how to live artfully; how to turn your life into a creative project; and how best to integrate conscious creation into your life, as a way of life. This is a 12-sign audio reading plus an introduction which moves elegantly through the astrology of the second half of the year — Venus retrograde, the two additional Venus-Mars conjunctions, the two additional Venus-Jupiter conjunctions, and Jupiter ingressing Virgo. You may order here. Note, this fantastic project is a fundraiser for Planet Waves. Thank you for signing up. You will love it. By the way, I describe the project in detail, along with my personal commitment to the subject matter, in the last segment of this recent Planet Waves FM. — efc