Dear Friend and Reader:
Today we have your Moonshine horoscopes for the Leo New Moon, which is later this evening. They were written by Genevieve Hathaway.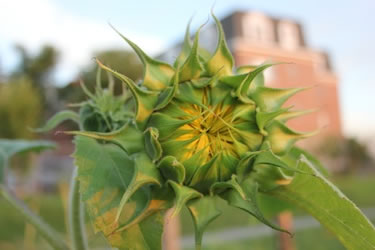 Sunflower about to open; photo by Amanda Painter.
Also tonight, Eric will be offering two broadcasts of Planet Waves FM, which should post by 8 pm EDT (or earlier).
In one, Diva Carla interviews Eric Francis about the New Moon, as well as ideas related to the New Moon and Vesta square Psyche. This interview was broadcast live on Monday, and we'd love to hear your feedback and questions if you were listening. The second PW FM contains additional information about the Mohonk Preserve story.
Eric introduced readers to the themes of service versus sacrifice that the New Moon's conjunction to asteroid Vesta brings into the equation in Monday's Daily Astrology post on the blog.
In today's Daily Astrology, we've delved a little deeper beneath the surface of this Leo New Moon, which is square the asteroid Psyche in Scorpio. If you've ever worried that you're too 'messed up' or 'wounded' to heal — especially sexually — this New Moon could be an enlightening point along your journey. Often when the Moon is dark it becomes easier to see one's own inner light.
Yours & truly,

Amanda Painter