Welcome! You may access your free monthly horoscope below. Before we get to that, I'd like to share some of what Planet Waves has to offer you.
Each week, Eric publishes a podcast on planetwaves.fm that covers important astrology for the upcoming week, news events viewed through the lens of astrology, music, and much more. You can check out a recent edition of planetwaves.fm here.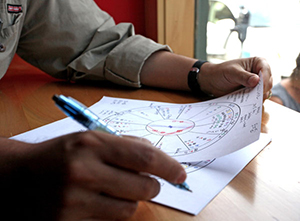 We also offer the most personal Sun sign astrology available on the Internet. Eric's listeners are astounded by the depth and insight he is able to pour into these readings. Each month, Eric publishes a new birthday reading that includes about an hour of astrology plus a tarot reading.
Are you curious? You may listen to last year's complimentary Taurus Birthday Reading here. These readings are made to guide you from birthday to birthday and they are useful well beyond the solar year.
Planet Waves is a place to access vital, life-giving ideas in a time of profound change. I know that one of the reasons you're here is to get to know yourself in a new way, and one of the reasons we've created this space is so that you have somewhere you can do that. Astrology is a beautiful self-study tool, going beyond personality and approaching the realm of soul.

Planet Waves Monthly Horoscopes for May 2014, #996 | By Eric Francis
Aries (March 20-April 19) — There's a fine line between being lost and being found. Have you ever become disoriented, then certain you knew where you were, then discovered you did not know, and then finally figured it out? That's different from cruising along confidently, sure of where you're going — a quality you would love your existence to have. Yet to be there, you would need to know where you stand with yourself, and where you stand with others. That is the quest of the moment. I suggest you start with where you stand with yourself. It will be tempting to consider what you would do based on another person's feelings, or to plot out your life based on what might happen in a relationship. The order of the moment seems to be how you can live your life spontaneously as yourself, following your plan for your own existence. Yes, it's possible that plan involves investing your whole consciousness and intent within the life of someone else. You might ask yourself how that's worked out for you in the past, and how much of what you have wanted to accomplish you actually have accomplished. Or closer to the point, to what extent do you feel that your way of relating to others has interfered with your ability to actually live your life? Once you sort this out, it's likely to prompt you to redefine many things you took for granted in the past.
Taurus (April 19-May 20) — The opening you're trying to pass through is as narrow or as wide as your mind. Rather than push harder, I suggest you notice what you're thinking and feel whether it's flexible enough to stretch. In principle, thought should be the most flexible thing in existence; it's made purely of ideas. Yet it seems that humanity has figured out how to cut through stone, mold steel and forge new elements more readily than it can change its mind, especially on a collective level. It's challenging enough making any decisions at all, and more complex when a second person is added to the equation. Your intimate partners are on their own path at the moment, making choices entirely outside the realm where you can consciously influence them. But you have all the influence in the world over your own choices, if you can think of yourself as an individual and not as part of something larger. You might say that's the challenge of the moment. This relates to how as a much younger person you could not make a move without some version of family approval. You may have figured out that you can, but in truth it takes most people a long, long time to get there. In order to accomplish this, you don't need to assert your individuality to other people — you need to assert it to yourself.
Gemini (May 20-June 21) — There are karmic implications to sex. If nothing else, that has been the resounding message of the lengthy Mars retrograde that draws to a close over the next few weeks. Karma is merely an analysis of cause and effect, which is a simple law that says every cause has many potential effects and any effect has many potential causes. But the heart of the matter is that there is a relationship between the two sides of the equation. In our era, most of the karma around sex is created due to lies, secrets and silence. We would remove many of the implications of sex were we to open up and tell the truth — but at the same time, many relationships as we know them would crumble. People who go through this almost always emerge with a better life, a lighter conscience and a more direct way of relating. As Mars comes to a halt in Libra, your 5th solar house, you're being invited to clear the air of anything that is lingering; of all that you have not said; to express the basic, elementary truth of your heart and soul. The risk involved is shifting, tipping or upsetting the seeming balance of your existing relationships. You might ask: is it really balance, or is it a balancing act? How do you tell the difference? Balance is easy; a balancing act is a struggle.
Cancer (June 21-July 22) — When you meet someone new, something that seems likely to be happening frequently for you right now, go right to the level of values. Cut past the superficiality and niceties and do your best to identify what you actually have in common with the person. Listen for clues about what he or she counts as the most significant elements of their existence. Listen for what matters to them. You don't have time for anything else. What matters, that is, what exists on the values level, is the foundation of the relationship. You can only build on a foundation, so if you're looking to create something, or to have your encounters with others serve a productive purpose, establish whether that deeper layer exists. It is unlikely to be based on appearances or the fact that you might be in the same line of work, or like similar music. You must be perceptive, and take into account both first impressions and what you learn over time. Notice when you're 'overlooking' things or pretending they don't matter. I have observed that people will indeed tell you where they are coming from, and that the only thing you need to do is listen and use the information you collect. What I am talking about here is the cultivation of trust. There are rare instances when trust is intuitive, and that intuition is correct. More often, you must use your conscious mind.
Leo (July 22-Aug. 23) — It's time to assess your relationship to the technology that surrounds you. There are days when you love it and days when you want to throw it all in the nearest swimming pool. I believe that the 'technology issue' currently represents the most critical turning point of the human race, and you may be feeling this in spades right now. You are more susceptible to its influences than many other people. I suggest you investigate how your use of devices has influenced your existence. Has interconnectivity connected you or isolated you? How much more time do you spend inside versus outside as contrasted to earlier in your life? When you think back 10 or 20 years, how was your social life different, in particular your group involvements? What about your one-on-one intimacies? Do you trust people more or less? One last thought: where do you think the infiltration of humanity by technology is headed, on the largest scale you can imagine? These questions are more complex than they may seem; they are the stuff that sociologists will be looking at for many decades to come. Yet within the emotional and spiritual levels of your life, the answers are accessible to you, and they will be meaningful. If there is something you're concerned about on your behalf or that of your children, I suggest you make adjustments now.
Virgo (Aug. 23-Sep. 22) — Managing your finances, and working your way to true prosperity, is a matter of balance. Many different elements are involved, similar to the 'credits' and 'debits' lines on a bank statement, but more complex. There is the equation where time must balance out with money; making more money often means investing more time. There is the time and energy equation; sometimes you have time, but you have to manage your energy. Perhaps the most significant one is, how do you go beyond a linear model, that is, a dollar-per-hour model of supporting yourself? That's a way of asking, what is the value on your intelligence? In order to support yourself on your ideas, you must understand the value of your ideas to others — and then connect with those other people. These are some of the themes that are described by Mars stationing direct in a few weeks, and working them out all month long will help you set yourself on a productive path. One more thing: there is no substitute for commitment; there is no alternative to applying yourself fully to what you want to do. Often where there is a question of money or of self-support, commitment is the heart of the matter. The dedication you must offer can seem like it requires a sacrifice. Yet in truth, what you offer must be wholly voluntary.
Libra (Sep. 22-Oct. 23) — After nearly three months of Mars retrograde in your sign, I trust you've done some thinking about what you want. It looks like you've learned about what you don't want. Mostly your charts suggest you've seen what happens when you set the whole matter of desire aside, and just 'let things happen' and 'see how they work out'. One hint from your astrology is learning to experience desire without guilt. To do that, you might need to use guilt as a way of discerning the degree to which you actually want someone or something. Guilt is a toxin, but for you it also may be a sign of authenticity. How is this possible? Guilt is an indicator of having been pruned, controlled and manipulated. It's an emotional response that clues you into being under the perceived control of someone else, whether in the distant past, the recent past, or by someone in your life now. Authentic desire is one of the most dependable methods of navigation through the physical plane. For that to work, you must take hold of the freedom, indeed, the necessity, to want what you want, and also learn the art of unraveling guilt so that you have true authority over your life. This is one of the most challenging growth lessons in existence, but it's also one that delivers both immediate and long-term results.
Scorpio (Oct. 23-Nov. 22) — For months, Mars has been retrograde in Libra, the most sensitive angle of your solar chart. This has provoked your imagination and your anxiety, and stirred you up emotionally. Now the retrograde is about to end, though once Mars stations direct on May 19, it will take more than two months to reach your sign. This phase takes the discussion to the subject of privacy and secrecy. Two months is enough time to make decisions about what you share and what you hide in your relationships. I suggest you make a careful inventory of what you allow others to know about you and what you choose to conceal, and why. Along with that, I suggest you look at any strategies you may have to insulate yourself, such as keeping separate groups of friends for different purposes, or managing whether certain individuals do or do not get to meet certain other individuals in your life. All of these scenarios present not just a map of your concept of intimacy, but of your concept of reality. These last phases of the Mars retrograde process are likely to emphasize the fact that you must live in a transparent way if you're going to trust existence. Every secret you keep affirms that the world is dangerous and threatening. Every time you reveal yourself, you demonstrate that it's safe to be alive as the person you really are.
Sagittarius (Nov. 22-Dec. 22) — By now you have a pretty good idea who your friends are. You seem to have learned the value of both being appreciated and of pissing people off. It's not that being annoying is a viable way of life, but in noticing who is irritated by you and who welcomes you, you can have an accurate sense of where you belong. Your life is not about popularity — it's about finding your strongest, most viable place in society and working from that point of advantage. Carving out your niche is usually a process of trial and error, and for that to work you need both. Creating a space for yourself on the planet can have some brilliant moments, and it will inevitably get on some people's nerves. Being your own person requires a measure of not taking things personally. It's just that you've been so sensitive to what people feel, and it has not been easy for you to have a thick skin. One thing to consider is the extreme importance of allowing others to own their feelings, which implies that you do not own or control their feelings. When you're handed something you don't want, you have a right to pass it right back. In this process of establishing boundaries, you will take possession of what you feel, and what you intend to accomplish. That is the crucial step.
Capricorn (Dec. 22-Jan. 20) — With Mars stationing direct in your 10th house — the one that goes 'all the way to the top' — remember that leadership and authority are about relationships. These are not equal or level relationships, either. They are about authority, yet they also can be fair. What's significant is that you are the one who must define fairness, and to do that, you must have a balanced mind, which is another way of saying equanimity. This is an interesting concept. It's about one's inner state, which has a way of expanding and reaching into the feelings of others. The relationships you're building must be built on trust, and where you are in a position of authority, your willingness to play your role is a fundamental element of that trust. As the month unfolds, you're likely to have a series of opportunities to step up to new challenges. I suggest you do this incrementally, never taking on more than you can handle. The goal is not to have power; the goals, if I may suggest a few, are to explore the feeling of competence, and what it's like to collaborate with others in a satisfying way. Emphasize the quality of what you get done rather than how much or how impressive it is. If you're concerned what others watching you might think, clearly, this is the focus.
Aquarius (Jan. 20-Feb. 19) — You may have the feeling that a close personal relationship has become so narrow that it's not working for you. You are being called into a wider experience of life; you need your personal intimacies to grow and expand with you. One consideration here is that we are conditioned to create relationships that are 'general partnerships' rather than 'limited partnerships'. In a general partnership, one size theoretically has to fit all, and one relationship is supposed to meet all purposes in our lives, which is plainly not practical in most situations. It might be, if you have an extremely retreating life, few ambitions and you don't consider yourself on a path of rapid growth — none of which apply to you. Another dimension to this is that you need intense experiences. That's just part of your nature. To have those experiences in a relationship, you need someone who can go there with you. You do a lot of guiding people into this concept, though that's different from engaging with bold individuals who go there because they want to. Though this represents a big step from the seemingly intractable concept of one-on-one relationships that's expected everywhere but hookup culture, you may need specific partners for specific aspects of who you are. This requires both confidence and mastery over your own life, and associating with others who trust you and who have authentic self-esteem.
Pisces (Feb. 19-March 20) — Emphasize the positive. If you do, you'll experience less resistance, and as a result, you will have more time and energy. Enough is going well that you can get a foothold in those aspects of your life and build from there. What this will do is push the issue of whether you have faith in yourself. Everyone experiences insecurity; Pisces has its own special variety, which can be debilitating in a subtle way. Yet the other side of that is that you possess the potential for faith that can get actual results. The fact that two centaurs are in your sign — Chiron and Nessus — reveals the possibility that you are sensitive to how dark the world is right now. There is no way you can deny this, even if such an approach worked in the past. Yet both of these planets also grant an unusual power of self-healing. That is the first and most significant step toward expanding your creativity and sense of mission into a working method that has a beneficial influence on the world. At this stage of your life it's essential that you never take your own healing process for granted, and equally vital that you not get hung up in it, as if it's the only thing there is. Work with your collaborators, use your time well and extend your creative awareness to everyone whose life you touch.